Central Lycia Coast Sea Kayaking Tour
5 nights – 6 days paddling trip
2 hotel/pension nights (B&B), 3 camp overnights
Price: 800 €
The dates are determined in accordance with traditional Fisherman Storm Calendar.

A unique sea kayak adventure along Turkey's Mediterranean Coast 6 days paddling & camping tour along beautiful, spectacular and unspoiled coastline.
Escape from the crowds to crystal clear waters of Lycian coast for paddling, walking, swimming and snorkeling. Like the ancient Lycians you will be able to reach places accessible only by sea. An English speaking guide will accompany you to further illuminate the history of the sights you will see.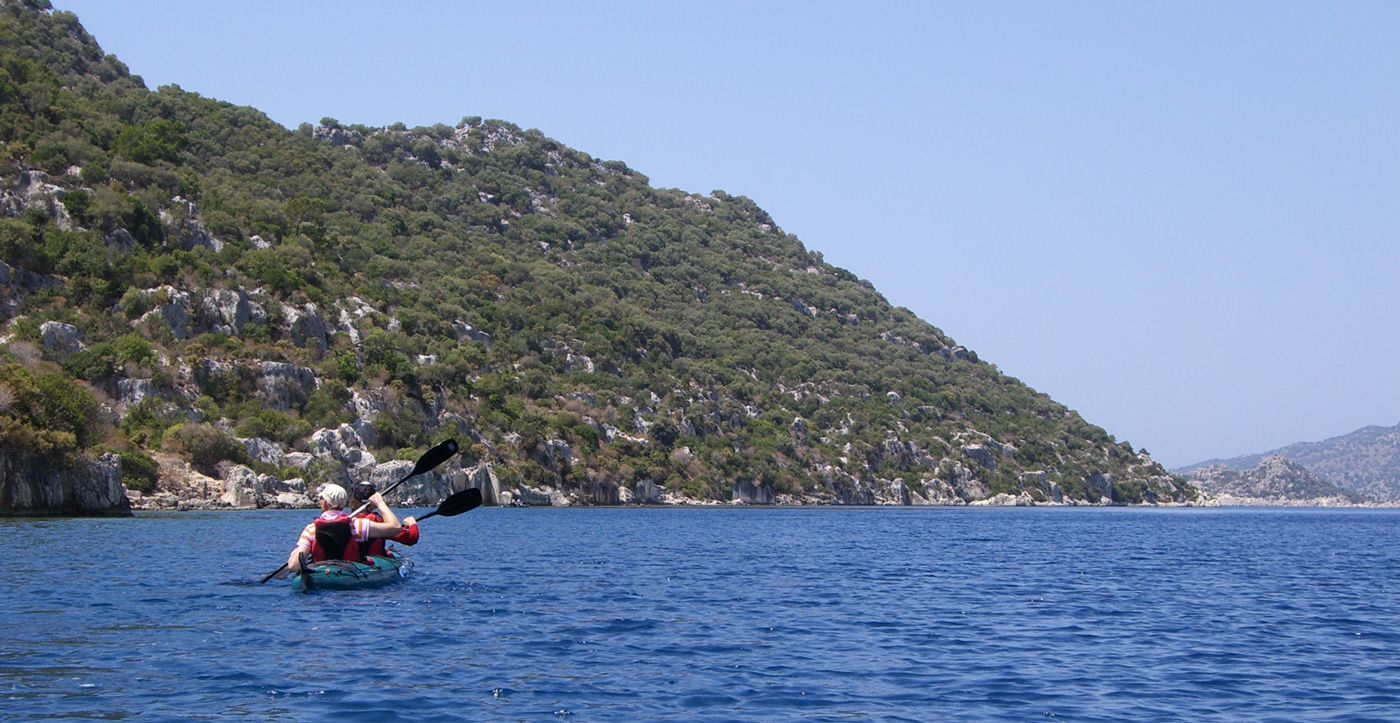 CENTRAL LYCIA REGION
Visiting natural harbors and fascinating islands along Central Lycian Coast; explore the impressive rock tombs of ancient cities, spectacular cliffs, headlands, and the tranquil forested beauty and beaches of the many islands, learn about ancient Lycian history, coastal ecology, natural history and the coastal culture along Turkey's Turquoise Coast. Days spent paddling on kayaks and campgrounds in secluded coves, the whisper of ancient voices in the maquis or pine trees above, just another hectic day on the Lycian Coast.
Previous kayaking experience is an advantage but is not essential. However paddlers should be in a good physical and mental fitness for the itinerary described below. A flexible state of mind and a sense of humor are also important when experiencing " Lycian time ".
Remember to leave your clocks, deadlines and schedules behind so you can enjoy a state of mind where the local concept of time is measured by the seasons.
Come prepared for spectacular Lycian sunrises and sunsets that will take your breath away. Light along Lycian Coast, especially in spring and autumn days, has the clarity and pureness that photographers crave. Add to that an incredible variety of photographic subject matter-people, landscapes, architecture and wildlife. Nested between Mediterranean Sea and Teke Peninsula Range, Lycian coast's deep blue waters shimmer with life, providing surreal contrast to the surrounding landscape.
Experience mythical Lycian Coast like no one else has… via sea kayak!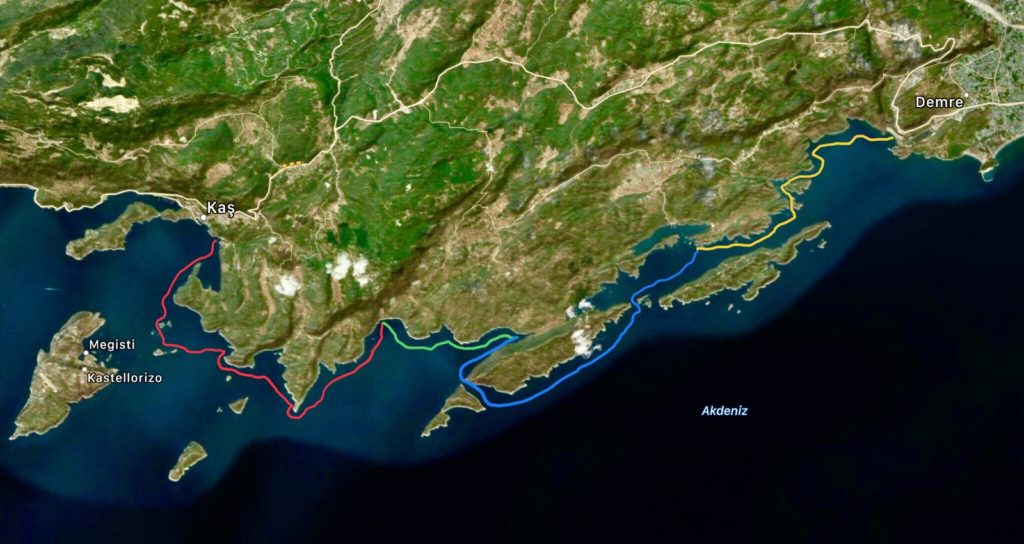 Tour Details
Tour Duration: 5 Nights, 6 Days
Destination: Kas(AntiPhellos)- Demre(Myra)
TURKEY: Antalya- Mediterranean Coast; Ancient Lycian Coast
Speciality Categories: Sea Kayaking (paddling) and Camping & Walking
Airfare Included?: NO
Tour Customizable?: YES for min 5 peoples
Number of Participants:
Minimum group: 4 paddlers + 1 guide
Maximum: 12 +2 staff* paddlers
*(Group leader and an assistant).
Accommodation: Overnights in tented camps and hotel / pension
Meals: Lunch box / restaurant / camp cooking / hotel
Vegetarian rations are possible.
Transfer & transport: by minibus and/or 4 x 4 vehicle
A 4 x 4 vehicle and/or a support boat is provided for logistics and security matters, if necessary.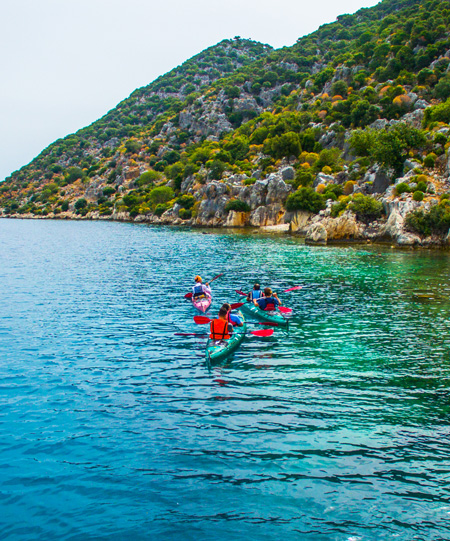 TOUR PROGRAM – THE COAST OF LIGHT
Day 1: Antalya-Kas: Arrive in Turkey.
Transfer from Airport. Check-in to the hotel. Tour briefing and dinner.
Hotel in Kaş, Dinner
Day 2: Sea Kayaking: Kaş Archipelago-Factoria Bay-Üzümlü
Start your kayaking adventures right off by learning/reviewing essential paddling and safety skills on calm waters of Kas Archipelago.
This training session could be replaced by a longer trip on the peninsula for experienced groups, before your first open sea experience in this excursion: making a large arc like track, we first pass through Kas Archipelago islands.
We can take our first break either on the islands or at the Shepard's Bay for a late lunch time on board. The last leg of the day will also cover the 3 small island opposed to Ufakdere (Factoria) Bay and Üzümlü where we will end the first day's paddling.
Paddling Time : 4 hours
Breakfast, Lunch, Dinner
Camping
Day 3: Sea Kayaking: Üzümlü-Aperlai
Today we paddle along remote coasts to Inonu Cove, where the landscape becomes more bizarre by the hour.Here the coast is brittle and rocky. Twisted claws of stone emerge from the water. Jagged islets seem to rise and fall with the tides – no wonder Greek sailors named them "barbs of Poseidon's trident".
After our breakfast, we will paddle over the waves of Cape Uluburun, where oldest known shipwreck has been excavated by the Institute of Nautical Archaeology. After this cap we paddle towards Inonu cove; you see the splendid rock tombs carved into the hills, powerful remnants of Lycian civilization.
Arriving to the ancient city of Aperlai at the end of a long bay, you will see the ancient port, now mostly underwater, as a result of earthquake subsidence over the centuries.
We camp at this hidden cove where is also one of the campsites on Lycian Trail.
Paddling Time : 5 hours
Breakfast, Lunch, Dinner
Camping
Day 4: Sea Kayaking: Aperlai-Simena
Paddling along the coastline, passing through Akar Bogazi (Sicak Peninsula narrows), we reach the other side we explore the sheltered waters of Kekova Sound & Kekova Island(s); explore ancient towns of Teimioussa and Simena, both the most evocative of all Lycian burial grounds.
This trip to Kekova and Ucagiz will be the highlight of your stay in antique Lycia. The 'three mouths' of Ucagiz are the openings South, East and West of Kekova Island.
Kekova is famous for its Sunken City that can only be reached by sea. With its ruins just below sea level, mysterious chambers, steps and walls carved directly into the rocks, Kekova is a long thin island that separates the open sea from the mainland.
We then continue to Kalekoy (ancient Simena) which can only be reached by kayak/boat or along footpaths.
The little village of Kalekoy that lies below and around the Simena Castle is one of the most romantic settings of the entire trip. Level walks then a short, steepish climb up to the castle of the Knights of Saint John is well worth it for the fantastic panoramic views it offers. We camp or alternatively stay overnight in a pension.
Paddling Time : 5 hours
Breakfast, Lunch, Dinner
Hotel in Simena
Day 5: Sea Kayaking: Simena-Andriake
Early morning paddling eastward take us to Kisneli island and Asirli Island with its big sea cave used at one time by pirates, then to quiet and beautiful Gokkaya harbor. We then return inland for a long tea break while discovering the coastal ruins of Istlada and the coastal features of Gokkaya Bay where a short walks to ancient ruins nearby the landing beach is possible. It was as though you enter an ancient water maze, with a thousands coves hidden from the rest of the world.
After the break, heading East we paddle to Demre-Cayagzi river mouth. If time permits, we will paddle up a spring flow in search of birds and natural springs.
If we arrive on time, the afternoon is spent relaxing and visiting Myra, St. Nicholas Church and Demre.
Paddling Time : 5 hours
Breakfast, Lunch
Hotel in Kaş
Day 6
Free morning and checkout. Transfer to Airport.
Breakfast
WANT TO JOIN