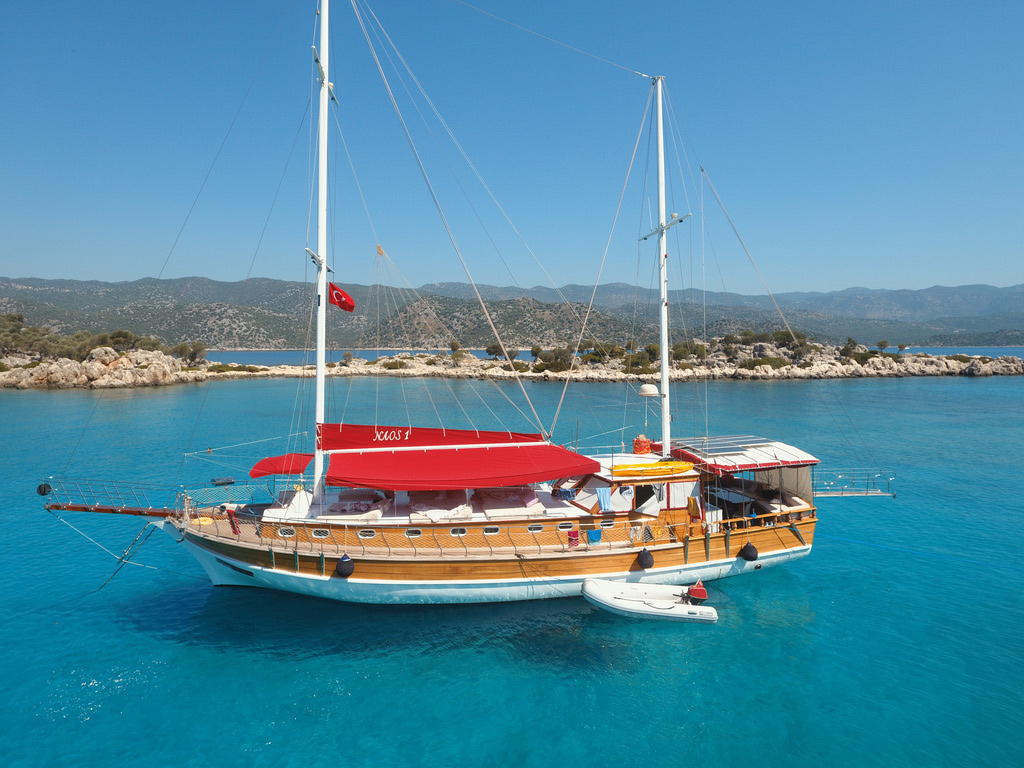 TOUR DATES & PRICES
24-29 May 21 – 1350€
5-10 June 21 – 1400€
5-10 Oct. 21 – 1500€
Combining the beauty of the ancient Lycian region with the comfort of staying on an authentic Turkish luxury wooden sailboat (gulet), our Coast of Light boat cruise sea kayak or hiking tour offers a unique experience to explore the Mediterranean Sea and rich Lycian history while being completely immersed in nature. Sea kayak or hike by day in beautiful marine protected areas, including sunken cities, discover breathtaking bays and enjoy your leisure time in the evenings on a beautiful gulet docked in a cove far from civilization where you may be awestruck by the glow-in-the-dark phosphorescence of the sea or spend a romantic moonlit-night in the castle village of Simena. Visit the ancient Lycian city of Aperlai by sea kayak or hike where you can snorkel over sunken ruins or walk among the ancient tombs and fortress walls to marvel at the stunning sea views. Admire giant sea turtles while paddling to Andriake with its impressive ruins of the once-thriving port-city of Saint Nicolas' Myra. The tour offers plenty of opportunities to have fun while actively exploring nature and history, as well as ample down time to relax on the boat. There is a lot more to experience, but you will have to discover it all for yourself!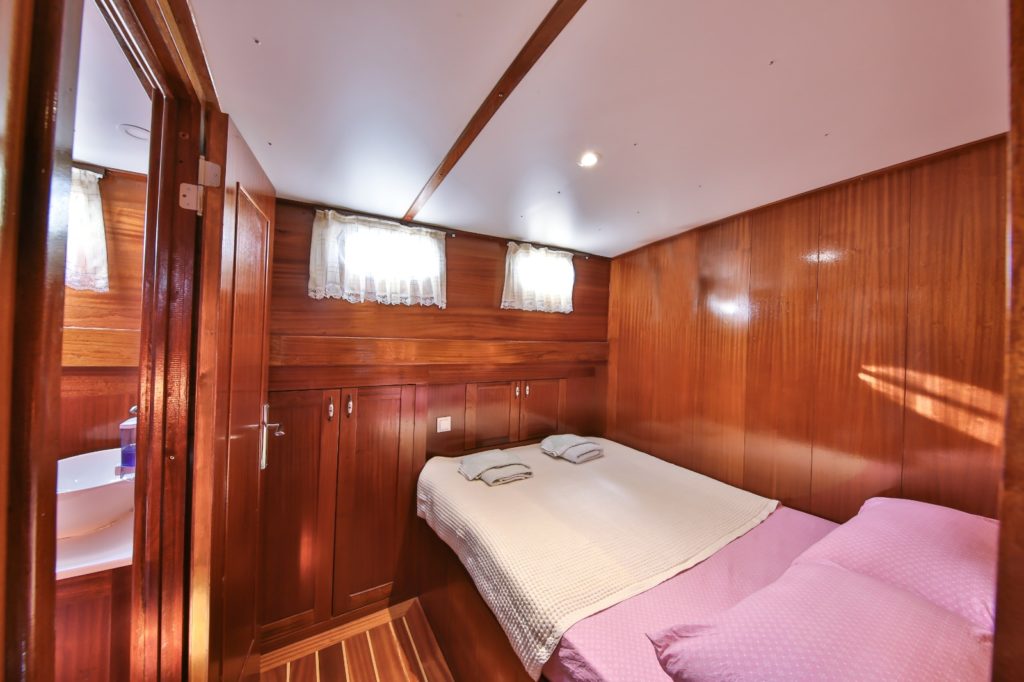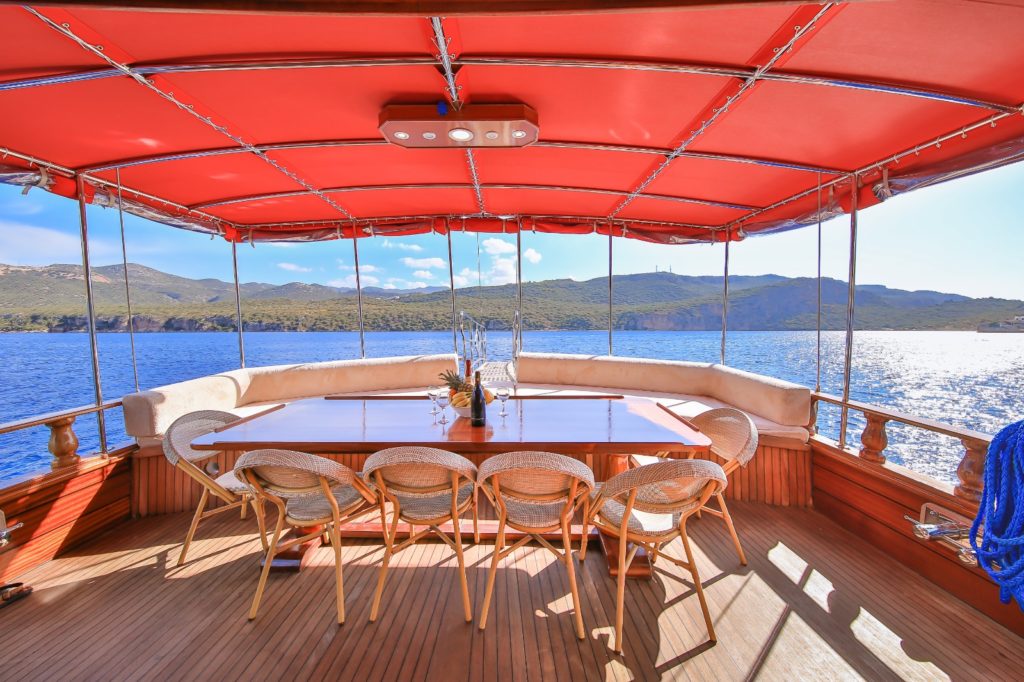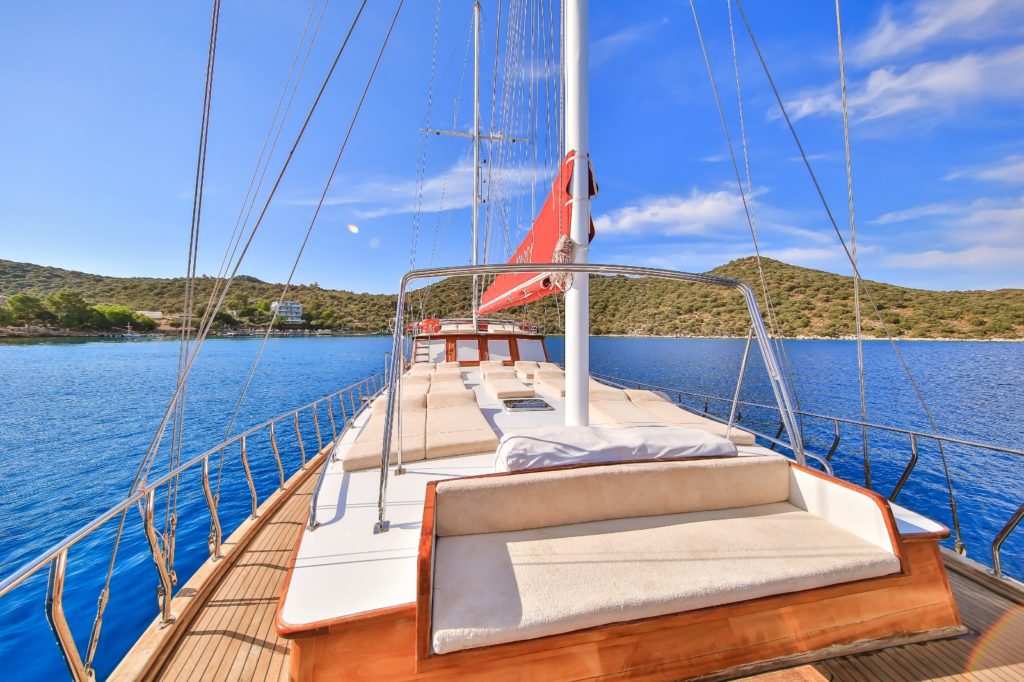 Day 1: Arrival in Kaş, board the boat, sea kayak or hiking familiarization
You will board your beautiful gulet around noon. The first afternoon and night are spent in a sheltered bay called Limanağzı. After a delicious freshly prepared lunch on the boat you will be given a general briefing about the tour. You will be able to practice your kayaking skills while admiring the view of Lycian rock-cut tombs above and the incredible blue and turquoise of the Mediterranean Sea below. You may even encounter one of the endangered Caretta Caretta sea turtles!
Accommodation: Boat
Meals: Lunch, Dinner
Day 2: Limanağzı – Üzüm İskelesi, Sea kayak or hiking
After an energizing breakfast, you will paddle or hike along Limanağzı bay towards Çoban bay where you will have a break to swim and a snack. There will be many opportunities to swim and rest along the way while following the Lycian Way by sea. Your guide will be with you at all times and will tell you about the region, culture, history and other interesting anecdotes. The day will end in Üzümlü bay where your boat will dock, and you will have the chance to relax and soak in the incredible starry night sky far from city lights.
Accommodation: Boat
Meals: Breakfast, Lunch, Dinner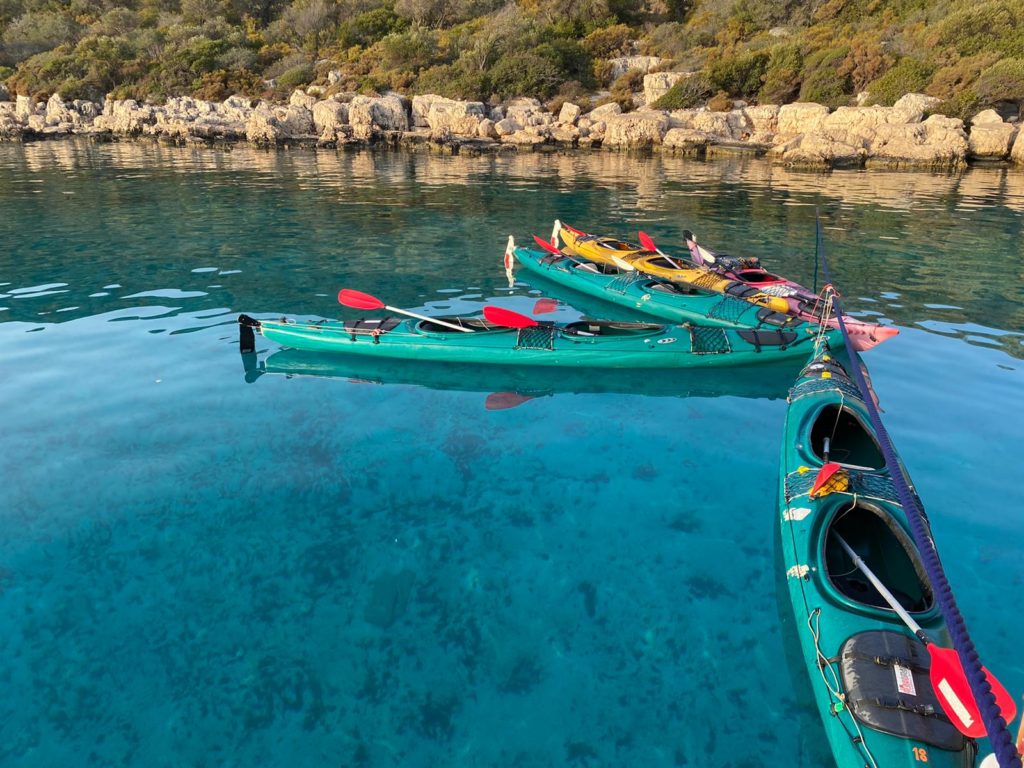 Day 3: Üzüm İskelesi – Aperlai, Sea kayak or Hiking
After breakfast you will start paddling or hiking towards the ancient Lycian city of Aperlai. A narrow but beautiful bay will be your break spot to have a snack and a swim in its refreshing spring waters. When you reach Aperlai, you can park your kayak and snorkel over the sunken ruins or go for a little hike to explore the sarcophagi, Roman bath and fortress walls. To watch the sunset on the horizon from here is a priceless experience!
Accommodation: Boat
Meals: Breakfast, Lunch, Dinner
Day 4: Aperlai – Simena, Sea kayak or Hiking
On the fourth day you will paddle or hike along impressive rock formations towards the inner bays of Sıçak peninsula and reach the Kekova marine protected area at the end of the day. If the winds are in your favor, you may be able to put sails on your kayaks to glide with the wind over the water! You will know you have arrived in the ancient city of Simena (4th century BC) thanks to its little mighty medieval crusader castle overlooking Kekova island. The castle contains the smallest theatre in Turkey, cut out of a single solid piece of rock. You will surely be mesmerized by the views from the castle and the immersion of culture and history as you lose yourself in the charming flower-strewn narrow streets and houses of the village, which to this day is only accessible by foot or by boat.
Accommodation: Boat
Meals: Breakfast, Lunch, Dinner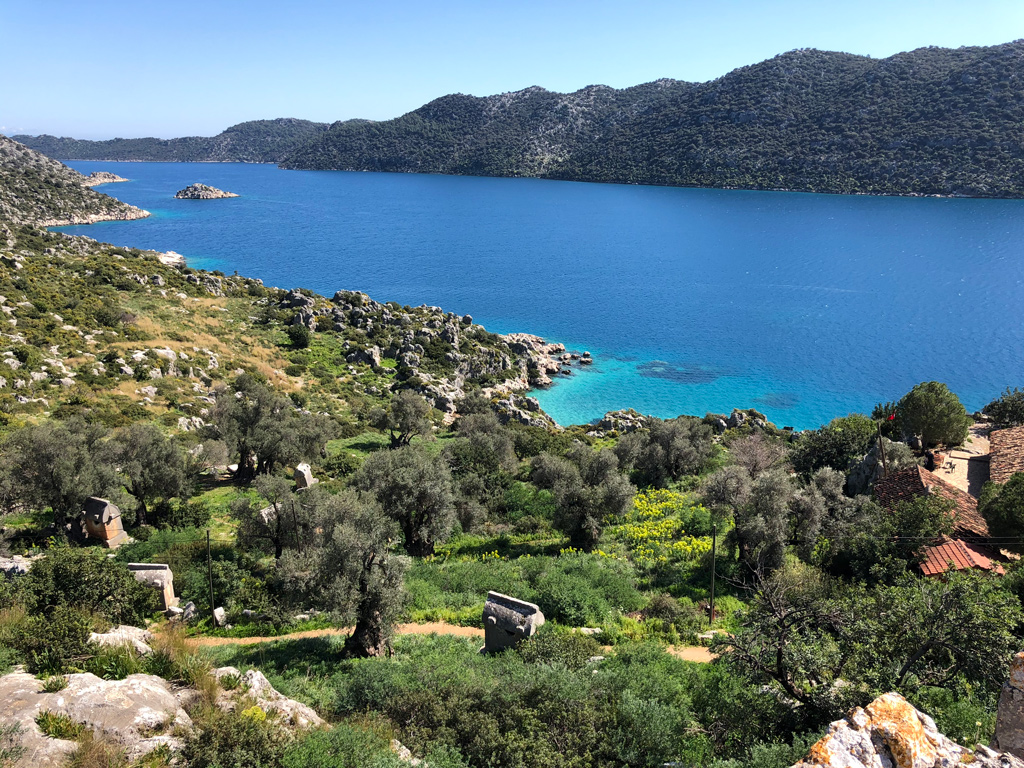 Day 5: Simena – Gökkaya, Sea kayak or Hiking
Paddling in crystal clear waters or hiking through the silent shores towards the east you will see where pirates and warships used to find shelter over the centuries in the hidden inlets of Kişneli, Aşırlı and Gökkaya islands and you will observe the ruins of the city of Istlada. You will spend the night close to Gökkaya island, taking in the calming sounds of nature and the countless stars above.
Accommodation: Boat
Meals: Breakfast, Lunch, Dinner
Day 6: Gökkaya – Andriake, Sea kayak or Hiking
On the last day of the tour, you will paddle or hike towards Andriake, once the thriving port-city of Myra. Andriake, or locally named Çayağzı, is home to numerous species of birds, both migratory and indigenous. You will experience the excitement of paddling with sea turtles in both deep and shallow water and observing many different birds all at once. If time permits, you will have the chance to visit the excavation site and impressive ruins of Andriake inside the premises of the Lycian Civilization Museum, well worth the visit. After lunch, you will head west for a leisurely return to Kaş, spending the rest of the afternoon fully enjoying your luxury gulet in this unique land where the colours and light never cease to impress, and where time so often seems to stop.
Meals: Breakfast, Lunch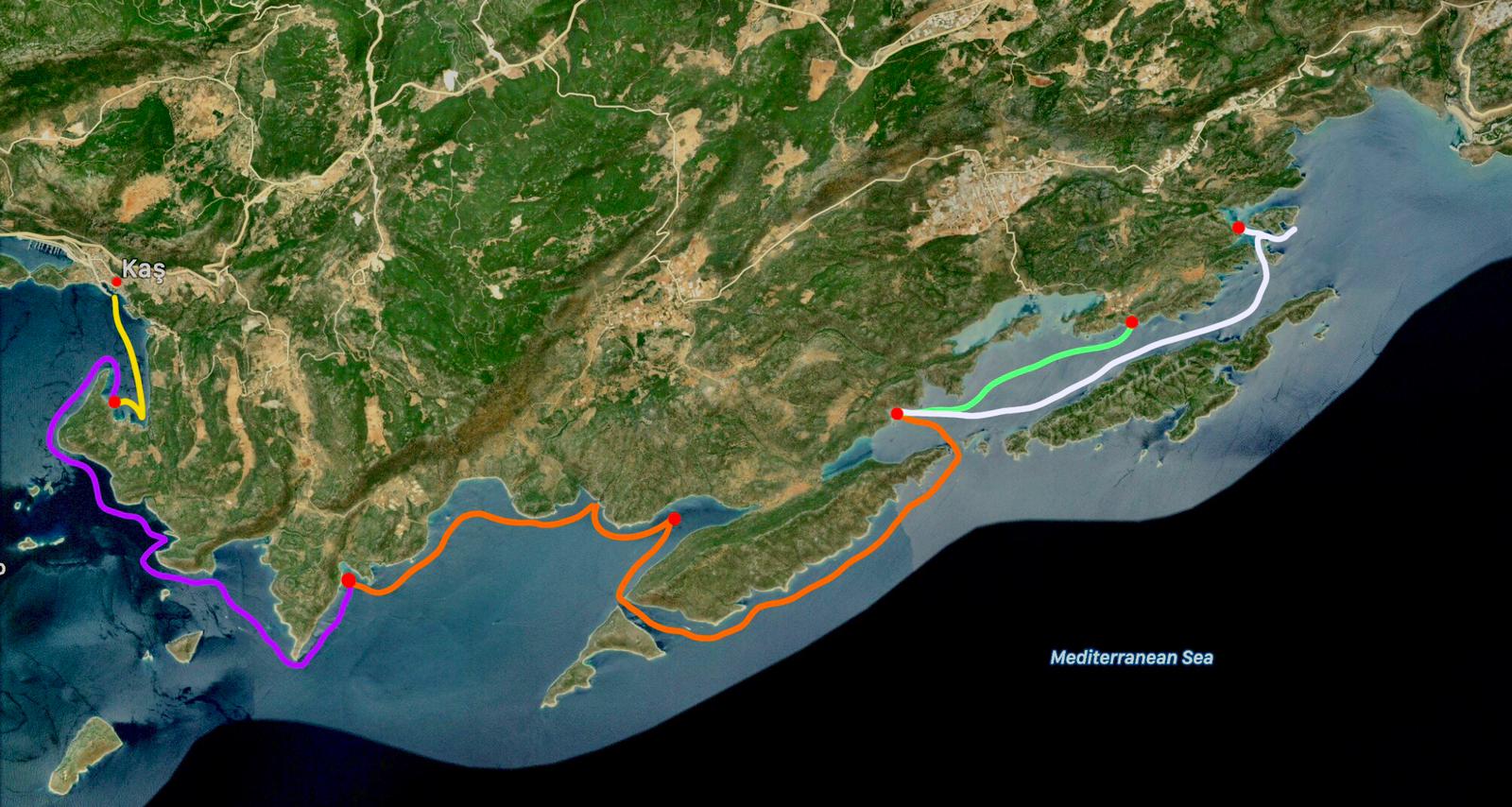 Prices are per person with double occupancy.
Number of participants is 8 to 10.
Contact our office for more accommodation and activity options prior to/after the tour.
INCLUDED IN THE PRICE:
5 nights on the boat (prices are per person with double occupancy)
Professional guidance services
All the necessary equipment for sea kayaking
Breakfast, lunch and dinner as mentioned above
Snacks and water
VAT
NOT INCLUDED IN THE PRICE:
Gratuities to guide, drivers or crew.
Airfare and transport to itinerary starting point. We recommend that you buy/reserve your tickets well in advance: please contact our office for suggestions.
Passport or Turkish visa fees.
Airport transfers unless specifically indicated in tour description. Please contact our office for more information and pricing of the various transfer possibilities, from private car to shared transfers to public buses.
Pre- and post-trip extension: If you are interested in accommodation and other activity opportunities before and after the tour program, please do not hesitate to ask.
Items of a personal nature such as soft drinks, water (except for water during activities), alcoholic beverages, laundry, phone calls, medical assistance, shipping and handling of forgotten items, additional hotel nights and meals not specified in the itinerary, traveler's insurance.
Trip cancellation, travel delay or baggage insurance.
Expenses incurred as a result of delays or cancellation beyond Dragoman's control.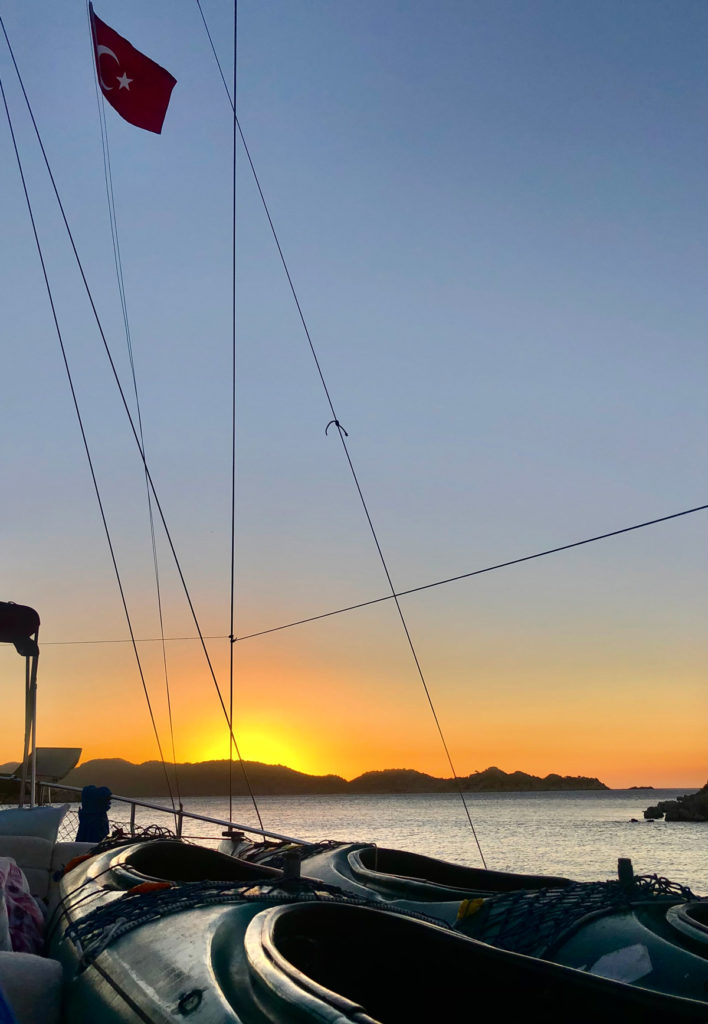 Terms & Conditions:
Deposits and Payments:
In order to confirm your reservation, the deposit fee required varies with the trip prices as:
120 days prior to trip departure = 25% of total trip cost.
90 days prior to trip departure = 100% of total trip cost.
If payment is not paid when due, Dragoman Diving & Outdoor reserves the right to treat the reservation as cancelled.
Cancellation Policy:
Naturally, we regret the receipt of any cancellation. Nevertheless, a sizeable portion of our trip costs is already committed well in advance of your impending departure.
Upon receipt of written notice regarding your cancellation, the balance of your trip payment will be refunded to you according to the following schedule:
91 days prior to trip departure: total payment is reimbursed.
90-61 days prior to trip departure: 50% of total trip cost is kept by Dragoman Diving & Outdoor.
60 days or less to trip departure: No refund