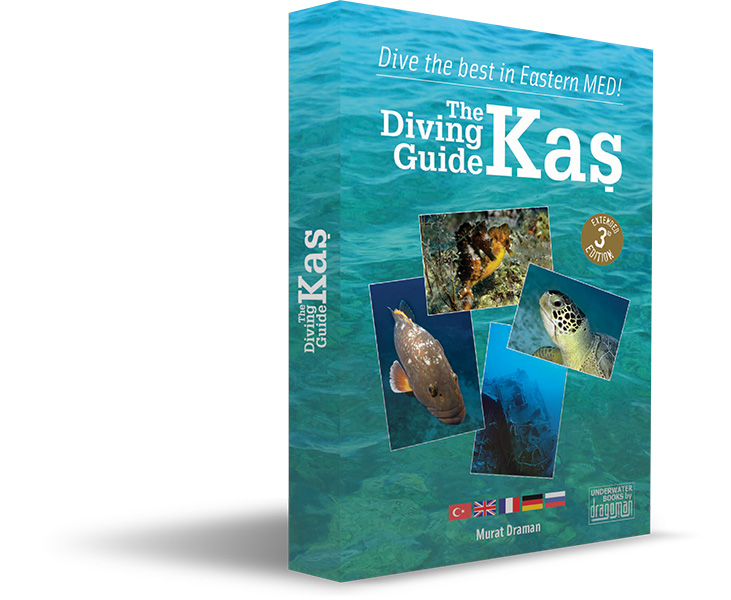 20 Euros (including VAT) + 10 Euros (shipping)
715 Photos (360 new)
21 Double-Page Dive Site Underwater Maps
21 Dive-briefings in English
10 Logbook Pages
307 Identified Species of Underwater
Fauna&Flora (107 new species)
You may send your recipt to murat@dragoman-turkey.com
Our account is verified daily and we will send your book by post office mail as soon as we receive proof of payment.
Note: Wire transfer expenses may be high and they must be paid by you: if you prefer payment by credit card, please fill in the linked form and fax it to us at the number given in the form.
The form below must be filled out completely and correctly in order to avoid any shipment inconveniences.

Wire transfer – Swift information:

Yapı Kredi Bankası – Kaş branch (code 720)
Account "EKO-NATURA LTD STI"
IBAN code : TR87 0006 7010 0000 0072 2370 51
Swift Code : YAPITRISXXX
Explication: The Diving Guide Kaş
Order
Kaş: A dive into nature and history…
Accessible only by boat even in the fifties, Kaş has remained one of the unspoiled corners of the Mediter- ranean. Throughout its history it survived as a small but important port, in harmony with its surroundings, away from major land routes and settlements. This is due to the mountains of Teke peninsula which stretch steeply down to the sea and make road access very difficult. The modern shore road was built in the 70's. So Kaş remained virtually undiscovered until then, except for a few motivated nature and sea lovers. Then tourism arrived in Kaş, but the "chance" of "delayed development" was helped by steep cliffs around the town holding back its growth, and the distance from both Dalaman and Antalya airports hindering mass tourism invasion.
As the locals put it, Kaş is "fronted by water ("yaş"), with hills behind ("taş")": nestled between mountains and sea, so things evolve slowly in Kaş. However, having protected its exceptional historical, cultural and natu- ral riches both on land and at sea, this "disadvantage" allowed it to provide for its future with alternative and sustainable eco-tourism. Although one would not say that the rapid development of real-estate that started in the 21st century is in harmony with the natural and historical fibre of Kaş, it established an awareness that the future of Kaş lies with the protection of its natural and historical heritage and guarantees that the new yacht marina and future development into a city will go hand in glove with an active conservation program.
From the book…
"The canyon – Dimitri (Cotton) Wreck"
"number one" in the press: a Kaş classic. Fish may not always abound at this very popular site but the sights are worth it! You may have to go against a strong southerly current while passing the shallow gorge so staying at the surface until you get past the three rocks may save your air for the dive. The "canyon" is now there with two steep walls going down to 19m inside. Please do not touch the very fragile sides while "flying" down. Inside the canyon you will find a cave, the walls covered with button corals and red shrimp. Be careful as these are hunting grounds for a Mediterranean monk seal!
Going out you follow the right wall to get to the Dimitri wreck. This steel coaster hit the islands in 1968 and scattered around cotton ballots, hence the local name "cotton wreck". It was dynamited to extract its valuable machinery and then sank during a heavy storm. Going up westward from the wreck leads to a small chimney and more metal debris. Going east, the left wall of the canyon ends as a balcony with an easy rocky reef above. In both cases please finish your safety stop before returning back through the very shallow gorge. Here you will find the small memorial to our friend Umut Tural, who dedicated all of his short life to the protection of the marine environment of Kaş…MORE IN TE BOOK…null