Kaş… A home for some, and a distant land for others… But it is a fact that everyone who comes to Kaş, leaves their hearts and minds in here. Kaş ,which is recently one of the most important tourism centers of Turkey, continues to preserve a unique atmosphere and clearest shades of blue.
Everyone who wants to explore Kaş properly should try some extreme sports thanks to which they can get out of their comfort zone. Kaş and it's surroundings provide many extreme sports like sea kayaking, trekking, diving, paragliding, coasteering and mountain biking tours. All these experiences allow us to touch life, ecosystem, history and people warmheartedly. That's why I want to share my first experience of sea kayaking in Kaş.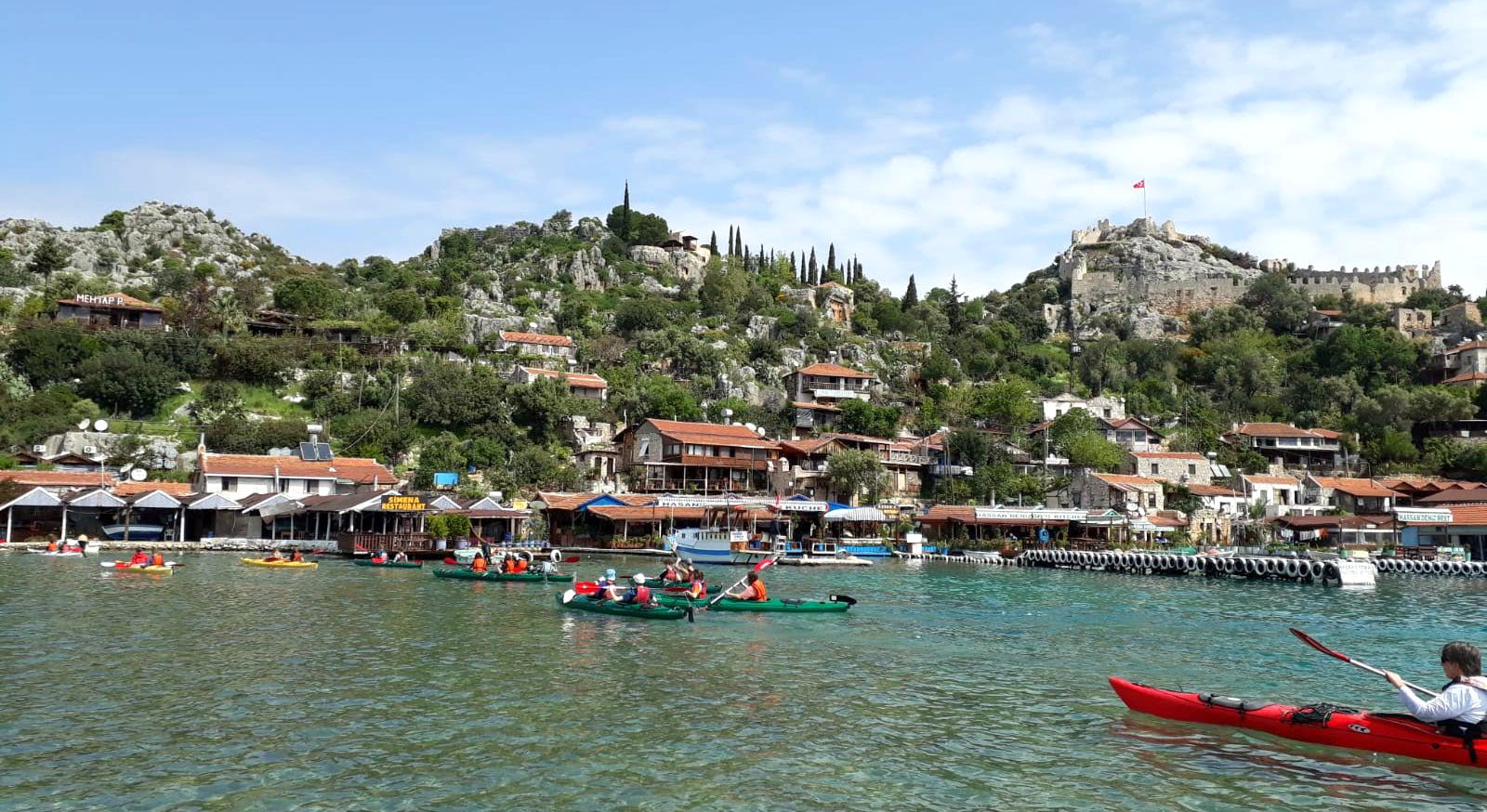 SEA KAYAKING IN KAŞ
First, let me briefly mention what is sea kayaking. Sea kayaking is a great sport based on arm strength and performed by paddling in the sea. There are various routes with different difficulties that you can choose one from. Kekova is definitely one of the most beautiful places to be discovered by sea kayak. The routes that you can choose from can be; the Kekova Classic, Kekova East, Kekova West, Kaş Bucak Sea and Kaş Archipelego routes.
THE FIRST EXPERIENCE AT SEA KAYAKING
Sea kayaking is a very special discipline that takes you out of your comfort zone. For many years, I have been interested in extreme sports. For this reason, I am aware that each sport has certain rules within and each of them is actually a discipline in itself. However, I must say that every extreme sport has a beginner level and it welcomes everyone who is ready for it. "I wonder if I can do it?"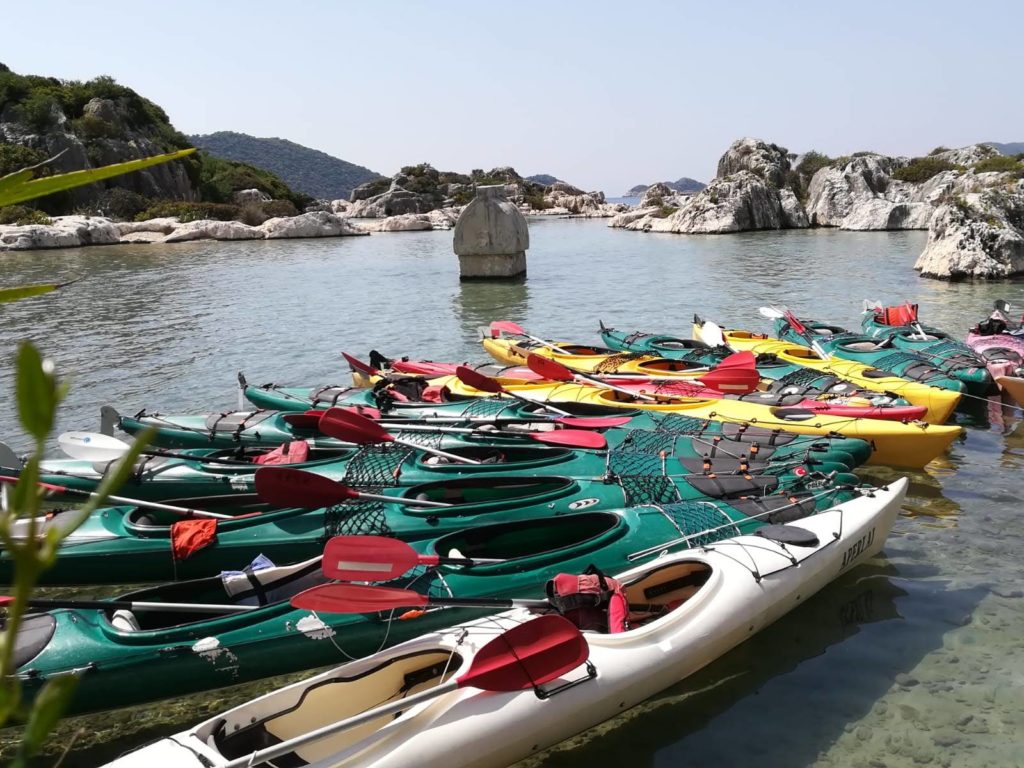 Yes, you will do it very well! And you will also love it!
Let me give you some technical details about this now. Although I tried it for the first time, I had no problem balancing on the sea kayak or using the paddle. Our guide asked us to practice paddling before we started the actual route. This practice helps us to understand the logic of sea kayaking. Thera are two types of sea kayak, single and double. Inexperienced ones are usually recommended double sea kayak, which I used also. The critical point in double sea kayaking is to ensure coordination with your partner.The person sitting in the back controls the foot pedals. I was sitting in the back so I tried to follow my partner in the front. After a while, you are literally starting to flow on the water. For example, I had a feeling that I had palettes on my hands instead of my arms. Even so, our beautiful arms are getting a little tired of course…But you feel that "yeah, look at me I'm doing this properly"
I just needed a little time to work on "going back" and "turning" moves. It is very normal to say "what now" for a moment but after a few tries everything is okay.
And the risk of capsizing is a situation that only might happen if there are excessive waves. These kind of tours are not organized at such times anyway.
In short, if the weather conditions are good and you have a guide you can trust in all conditions, then you are ready to leave all worries behind and paddle on the eternal blue…
SEA KAYAKING – KEKOVA CLASSIC ROUTE
Let's have a look at the route now… I tried the Kekova Classic route, so I will give information about this route.
The meeting point is the famous King's Tomb at the end of Uzunçarşı or (The SlipperyStreet as some may call it) in Kaş center. We got on the transfer van from here at 07:30 am and arrived at Üçağız after about 45 minutes. After that, we made preparations to get on the sea kayak. Then our guide gave us the necessary gear like life jackets, dry bags and fallout skirts. Afterwards, he gave a brief information both to adjust the foot pedals and to see how the pedals work. In the next step, he introduced all the equipments and we did hands-on practices for paddling in the most effective way.
And Now we are ready paddling! We start to explore Kekova Region, Tersane Bay, Sunken City and Simena. Everyone's energy is very high, the weather conditions are perfect and the sea is very calm!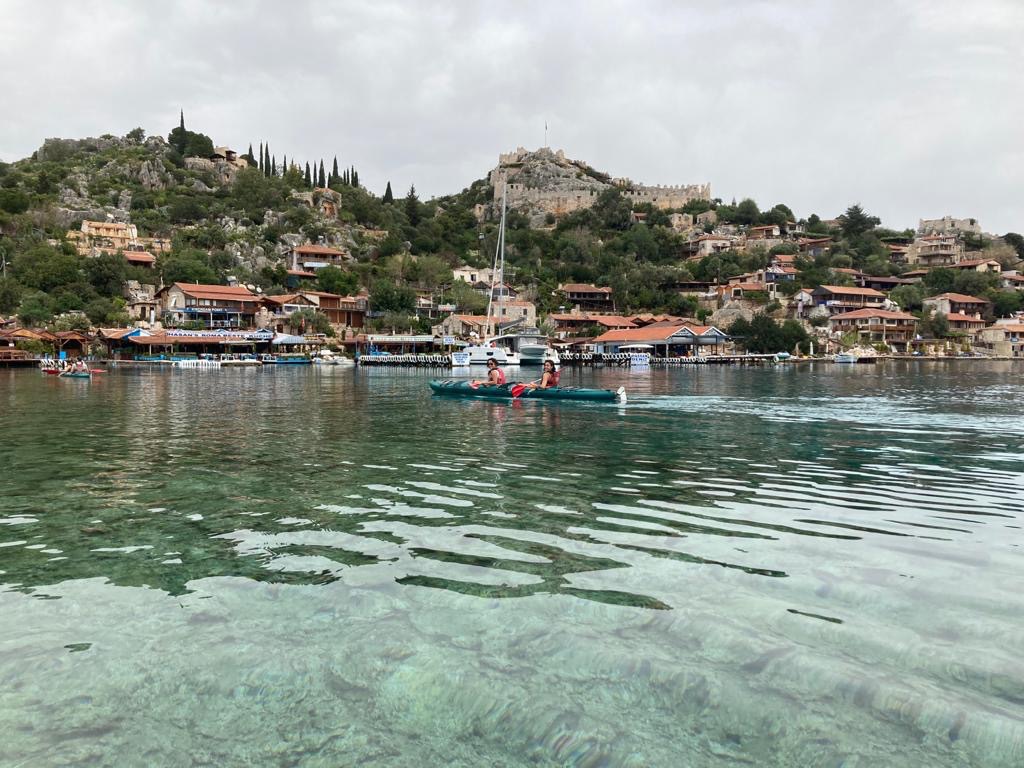 DETAILS OF KEKOVA CLASSIC ROUTE
The Kekova Classic Sea Kayak Route can be divided into four sections:
Second part:
Üçağız – Tersane Bay: We paddled for about 45 minutes from Üçağız to Tersane Bay and took a half-hour break at Tersane Bay. In here, you can rest in the shade and have some snacks or look at the Xera Ruins or swim in crystal clear waters. After half an hour, we started paddling towards the Sunken City.
Second part:
Tersane Bay – Sunken City: On our way to the Sunken City, we are actually paddling into history. It is not possible to see the Sunken City up close as much with boats because it is forbidden to swim here since it is a "protected area." Therefore, while sea kayaking we can discover more closely underwater ruins, steps, ruins of old houses and other details. After our guide gave us information about the history of the Sunken City, we continued paddling towards Simena (Kaleköy).
Third part:
Sunken City – Simena: We paddled from the Sunken City and reached Simena which is an incredibly beautiful Lycian city! Dating back to the 4th century BC. Simena has an atmosphere that will always be remembered with its unique historical texture, cute houses, colorful flowers, small shops and famous ice cream. Also, you can see the historical castle located on its peak hill. When we arrived at Simena, our guide gave us enough time after lunch to explore and wonder around all of the castle village.
The second and third parts are together the longest paddling distance and take about an hour.
Last part:
Simena – Üçağız: We had a lot of fun and, it is time to leave Simena. This is the final paddling part and it only takes about 20 minutes. During this time, we pass through the tombs that are still "standing" in the water. Upon reaching Üçağız our guide gave us some time to see around while they washed and cleaned the kayaking gear. Then we go back to Kaş and congratulate ourselves for having a wonderful day.
I am waiting for the opportunity to try the Kekova West Route as soon as possible. In the meantime, sea kayaking tours can be done not only daily, but also with accommodation on different routes. I recommend sea kayaking tours to anyone who say the motto "What makes a holiday, is a new experience".
IMPORTANT NOTE:
You cannot rent a sea kayak in Kaş and Kekova Regions because the region is under protection. Therefore, organizing this activity with a guide is very important for both your safety and respect for nature.
Thanks!