Understanding why coasteering is so much fun and actually quite familiar to us all!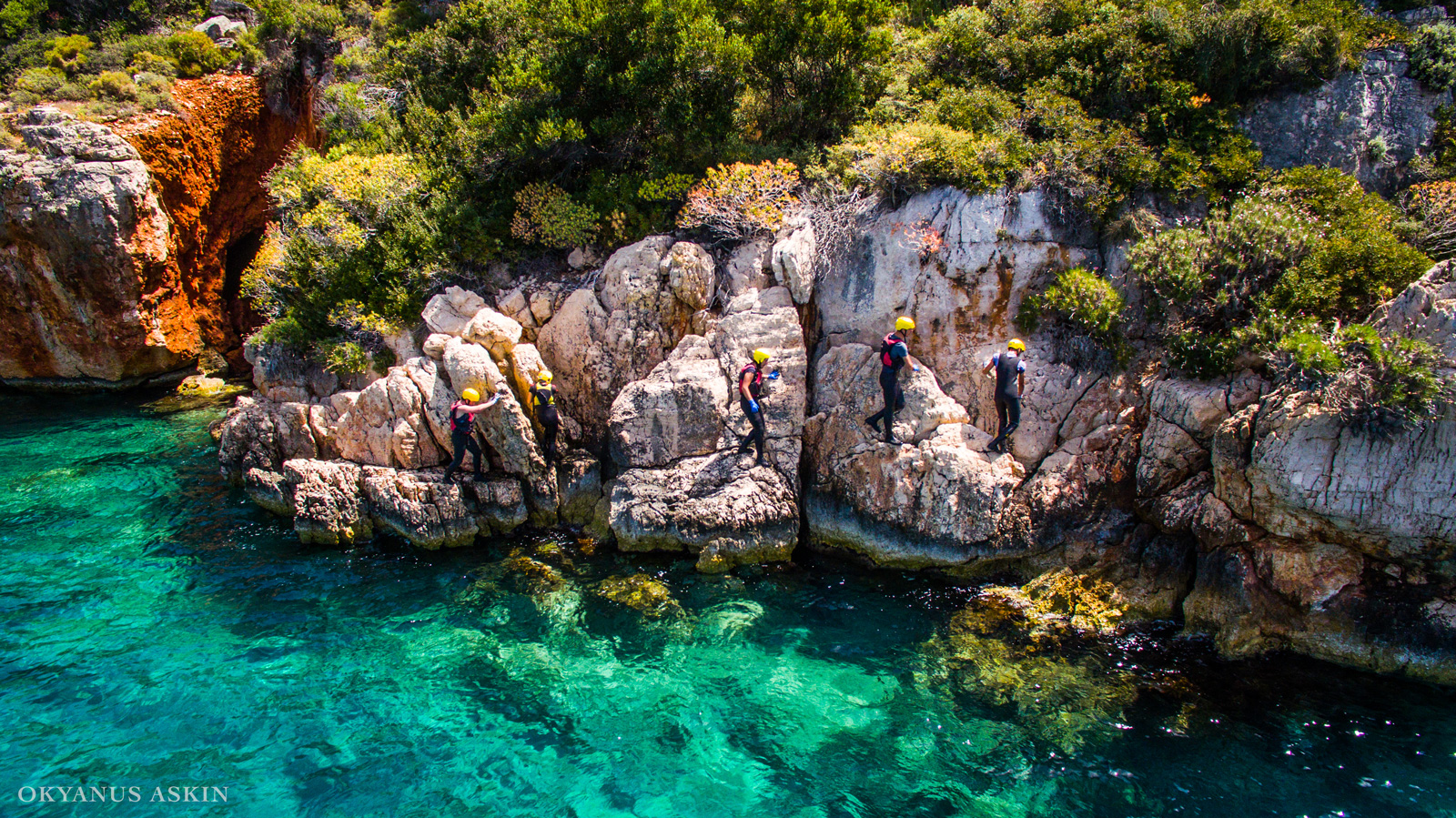 Coasteering is an outdoor activity that you probably already know very well. It has been practiced for many years by all of us in one form or another. You may be thinking, "Hmm. I am not sure about that…" Well think of yourself trying to climb a little wall or a rock in your neighborhood or when you went to the sea on vacation and the child version of you wanted to climb the rocks on the shore and jump into the water. That is the root of coasteering right there. And even if you weren't that adventurous, I am sure you have seen others do such things.
What is coasteering?
Alright, so let's describe coasteering.
Origin of the word "coasteering"
The word "coasteering" was used for the first time by John Cleare in his book Sea Cliff Climbing (1973); it is the combination of coast and mountaineering. Separately, somewhere in Wales in 1985, Andy Middleton coined the same word combination.
To "coasteer" is to…
To "coasteer" (I looked it up; "to coasteer" doesn't officially exist as a verb but it does now thanks to me) all we need are some rocks and some water. Coasteering consists of following a route on the rocks along the shoreline, bouldering, traversing, cliff jumping, swimming and some willingness and determination to have fun and feel alive. While coasteering, we do not use ropes or technical climbing equipment; instead we use protective gear such as a helmet, wet suit, life jacket, gloves and rubber shoes (all provided by Dragoman).
In my opinion, not having to deal with technical climbing gear that you may not already be familiar with is one of the advantages of coasteering over technical climbing; with coasteering you are free – it is you, your determination, your courage and your own limits that will determine how much fun you can have; not how good you are at using technical gear or how fast you learn to use a descender.
Coasteering with Dragoman in Kaş
Let's further jump into it (pun intended). I will tell you about Dragoman's coasteering route and will explain why it is special. This will give you a much better idea of what it is all about.

Dragoman, located in the beautiful town of Kaş, Antalya on the Mediterranean Sea in southwestern Turkey, is the only outdoor adventure tour and travel agency in Kaş – and in all of Turkey! – that offers coasteering as an activity. We follow a 3km route along the shoreline starting from Büyükçakıl (Big Pebble) beach and ending in Limanağzı bay. I always tell my coasteering groups that the tour has three sections.
Coasteering in Kaş consists of three parts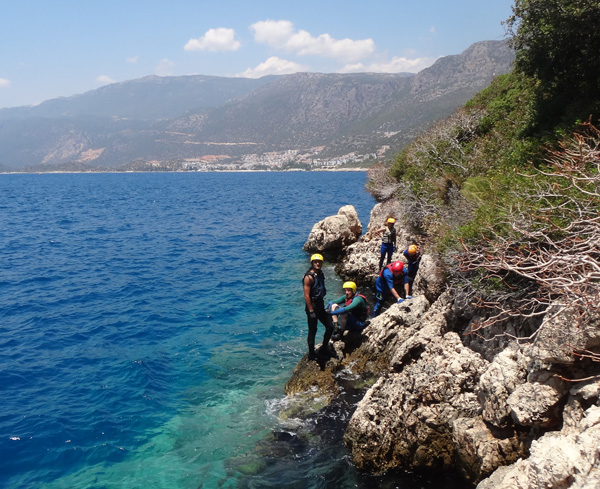 1: The warm-up
The beginning is a nice and soft start to familiarize yourself with the rock formations and learn to keep your balance while walking on the rocks. At the end of this section there is a little jump into the refreshing water that is quite enjoyable. Your guide, in this case me, will tell you how to jump, how to walk and everything else you need to know to feel comfortable from the start. You will get lots of tips and help along the way, so you won't need to worry about not knowing what to do.
I really like the warm-up as it builds confidence right at the start with a little kick of fun adrenaline! At the same time, you will admire the giant beauty of the mountains above and the feast-for-the-eyes turquoise waters of the Mediterranean literally right at your feet. You will embrace it, be inside it, jump into it, swing along it and feel it… Right; I digress! Back to the topic.
2: The fun part
I call it the fun part not because it is the only part where we have fun but just because we get to have extra fun in this section. After we finish the warm-up and mostly walking on the rocks, we begin to do more rock climbing and bouldering. There are also a couple of cliff jumps, including the highest in the tour (you can see a photo of it below) and it is literally breathtaking! The cliff has a little balcony ledge that is perfectly flat and therefore a good spot to rest and enjoy the view after all that climbing.
Most importantly, it's where you'll listen to your guide (me) tell you about how fun it is to jump off the ledge and scream fun words (or sounds!) while you do it. So far, I haven't seen anybody who did not have a big smile of true fun and achievement after they have jumped off that ledge. I have had a few that were not so willing to jump (for some it appears to be a bit high and a bit challenging to get up there…) but I have managed to encourage them all and I always get a thank you for it afterwards.
You won't know how much fun it is until you do it!
The best part is it is all safe! The water is deep, and it is so clear and beautiful; it is definitely not the Celtic or the North Sea! Brrr… This is the warm and crystal-clear waters of the Mediterranean! We usually spend the most time in this section, climbing the ledge a couple of times just for fun!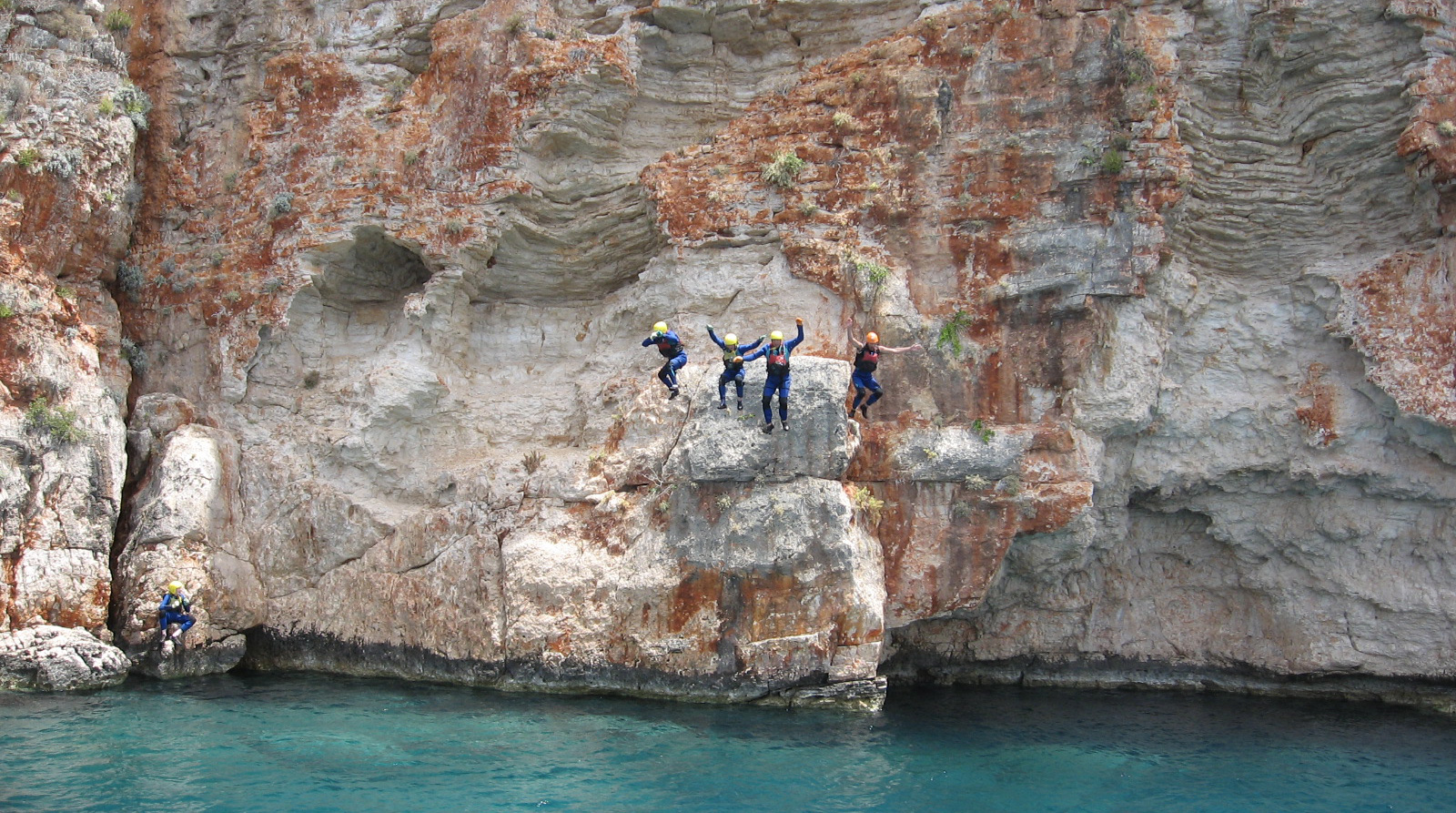 3: The so-called technical stretch
Well, it is "so-called" by me only. By the time you get to this last section of the tour, you will have already climbed and cliff jumped several times which means you are all warmed up and ready to try some more technical stuff. I call it the technical stretch because the third section starts with long arm and leg stretches traversing along the rock facade at a level that is very low to the sea. There are lots of finger holes, angled boulders and walls that might seem flat and unmanageable, but anyone who has done this tour would surely say that it is more doable than you might first think!
This section allows you to test your limits in a very safe manner. If you fall trying to creep around the side of a rock, you just fall a couple meters max into the sea; something that is quite refreshing in the intense summer heat (trust me!), so you even enjoy the fall.
After a point when you (and I) will be low on energy and muscle power, our support boat will take us to nearby Limanağzı beach for a well-deserved lunch (see photo of where you will eat below). Upon arrival you can change into dry clothes, or you can go for a quick refreshing swim in the shallow turquoise waters while waiting for your food and drinks. And then you get to enjoy a delicious lunch at one of the most beautiful and secluded beaches in Kaş!
I can assure you that you will feel a great sense of self-confidence thanks to your coasteering accomplishments and all the jumps that you did. You will deserve a big pat on the back!

After lunch, you can relax and have one more drink before we head back to Kaş harbor with our support boat.
(It would be greatly appreciated if you help me carry some of your gear back to the office, which is within a very short walking distance from the harbor drop off point. Thanks in advance!)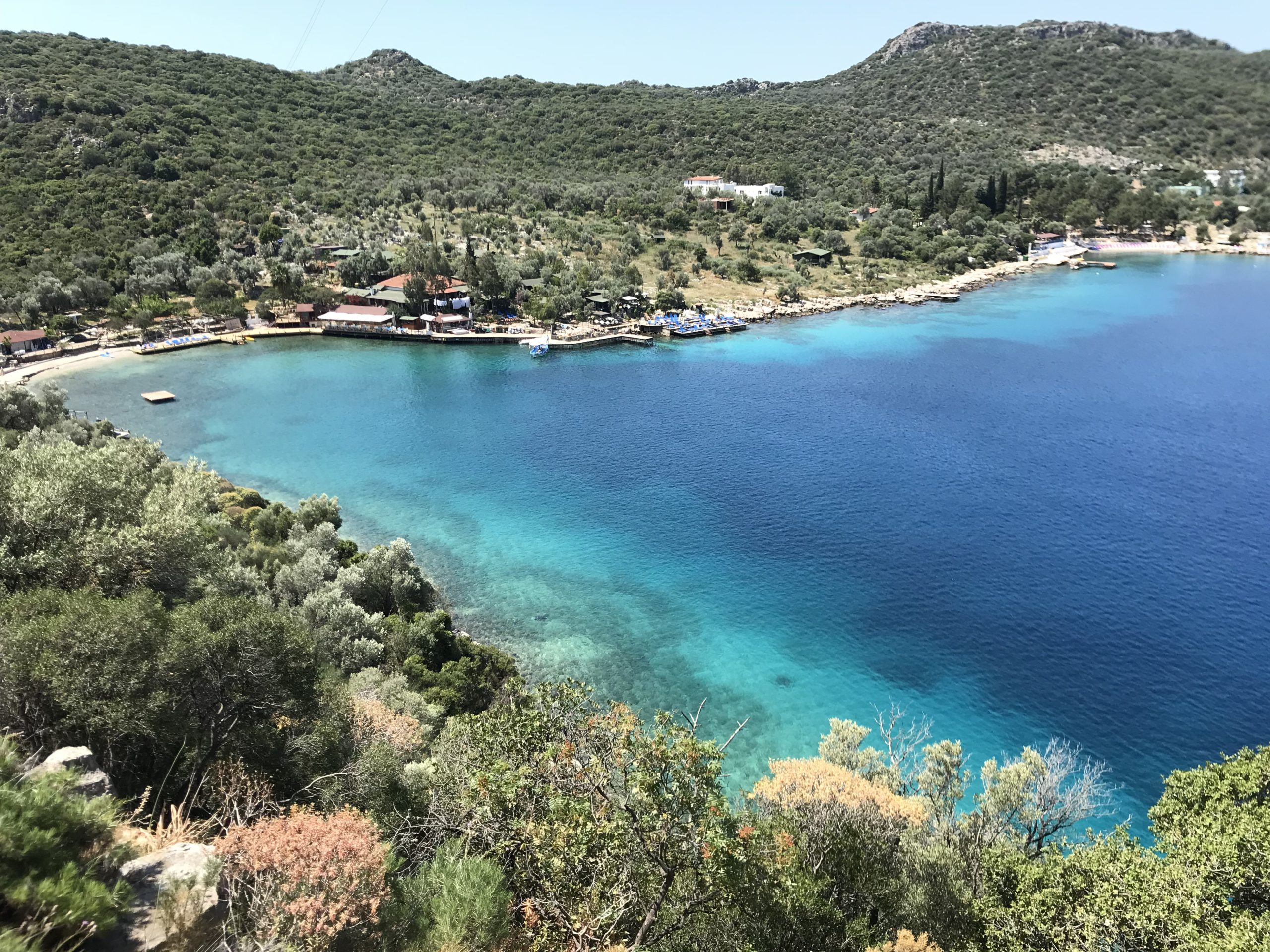 To summarize
Coasteering is one of the most unique ways that you can explore the coastline while being fully immersed in nature, admiring the beautiful colors and sights of the Mediterranean Sea. Limanağzı is reachable only by boat or via the Lycian trail over the hills of our coasteering route. Choosing coasteering as your means to get there surely is way cooler than walking or taking a boat! Imagine your photo in a boat or walking and compare it with dozens of photos climbing across rocks like Spiderman (your wetsuit is your super gear!) and jumping off rocks and cliffs into the sea.
Coasteering is great fun, it is safe, and it is a good workout too!
And yes, you can do it regardless of your age as long as you are comfortable walking across rocks and can swim.
See you soon hopefully for some coasteering fun!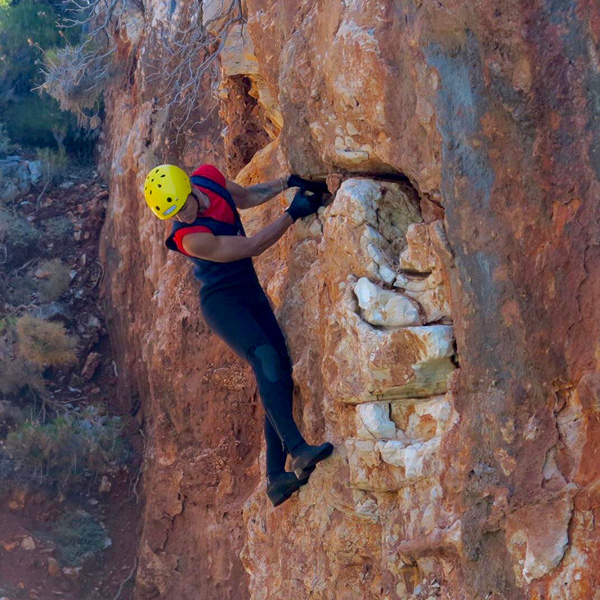 Sign up for your Dragoman coasteering tour here!
Red Bull says that Dragoman's coasteering route in Kaş is one of the 12 most breathtaking coasteering spots in the world.
Kernow Coasteering, a coasteering and rock climbing provider in Cornwall (UK), wrote about the origins of coasteering and how Dragoman was a global pioneer in the field.