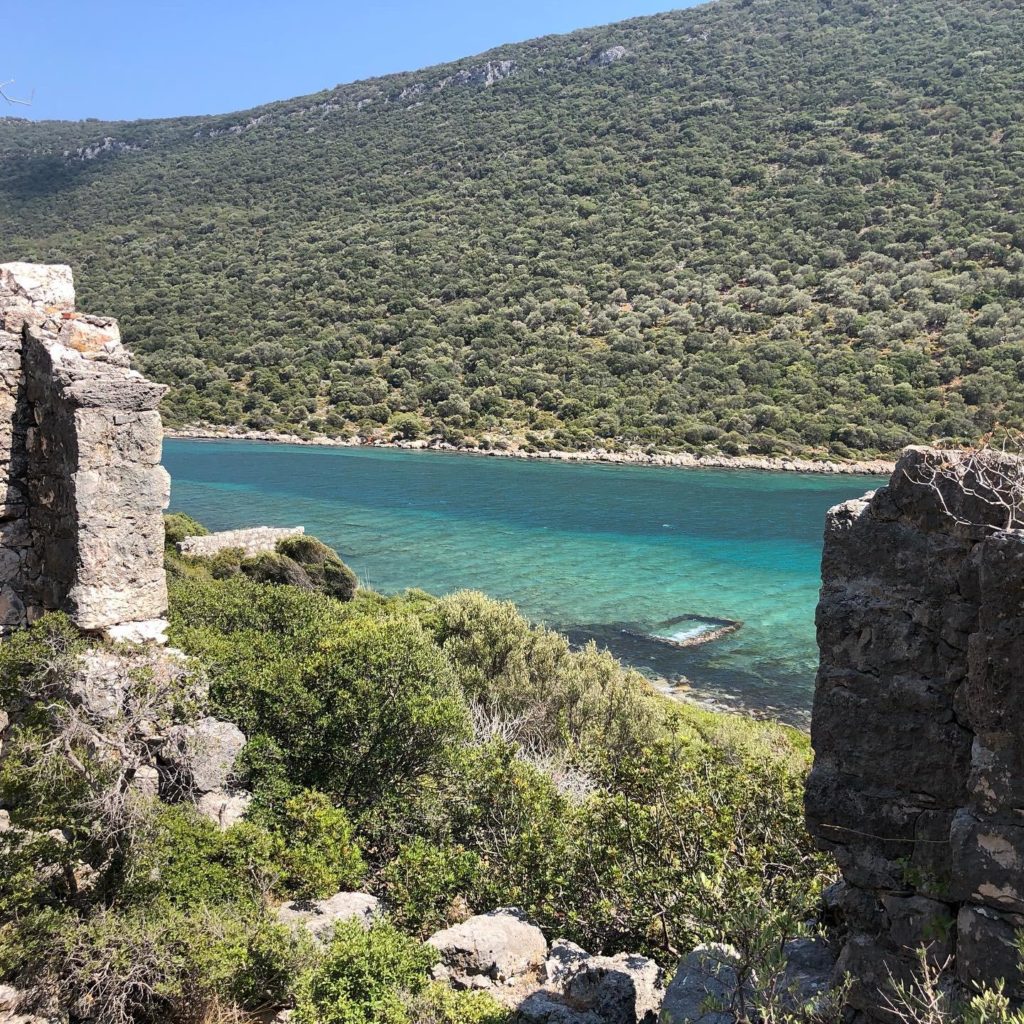 Aperlai is an ancient Lycian city, which existed from late 4th century BCE to early 7th century AD, near Theimussa (today known as Üçağız) and the island of Kekova near Kaş, Antalya. You may have heard of Kekova, Simena or Üçağız since they are more popular tourist spots, but perhaps not Aperlai. It never was a very significant city in history yet during the course of its existence, it had its moments of prosperity. You may ask yourself, Why should I continue reading if it was not even an important city? Well hang on a minute. You see, even if it was a small city of maximum a thousand people, they managed to create something beautiful and magical: the dye for royal purple! They produced the die by crushing murex (a mollusk) shells, and as it was traded to different parts of the world via merchant traders who would come by ship to the region and was much coveted among the elite in faraway lands, the people of Aperlai were able to live a wealthy life. Experiments done today show that they needed 12.000 snails to be able to produce 1.4 grams of the royal purple dye and the proof this lies buried in the surface of the earth on the hills of Aperlai as the hills are formed by the piles of Murex shells. The dye itself cost 20 times its weight in gold and that should give you a good idea of its value at the time.
Serenity, nature and history
The ancient city ruins are about 9 km from Üçağız to the west, and if you are staying anywhere in or near Kaş or Demre you should definitely consider a visit. Only a few hikers and a handful of tourists make the effort to see Aperlai during the tourist season. If you want to experience an ancient city that is not packed with tourists even at the heart of the tourist season (which is pretty rare!), then Aperlai is for you. Aperlai guarantees uninterrupted serenity and the sounds of nature and little sea waves lapping at the shore as you explore its ancient ruins.
How to get there
As it is connected to the mainland, you can hike there by following the Lycian Way Trail from Üçağız to the city. You can also take a boat to Polemos bay and then hike two kilometers to the city. However, the best way to reach the city is by sea kayaking!
Dragoman is the only company that offers regular sea kayak tours to Aperlai.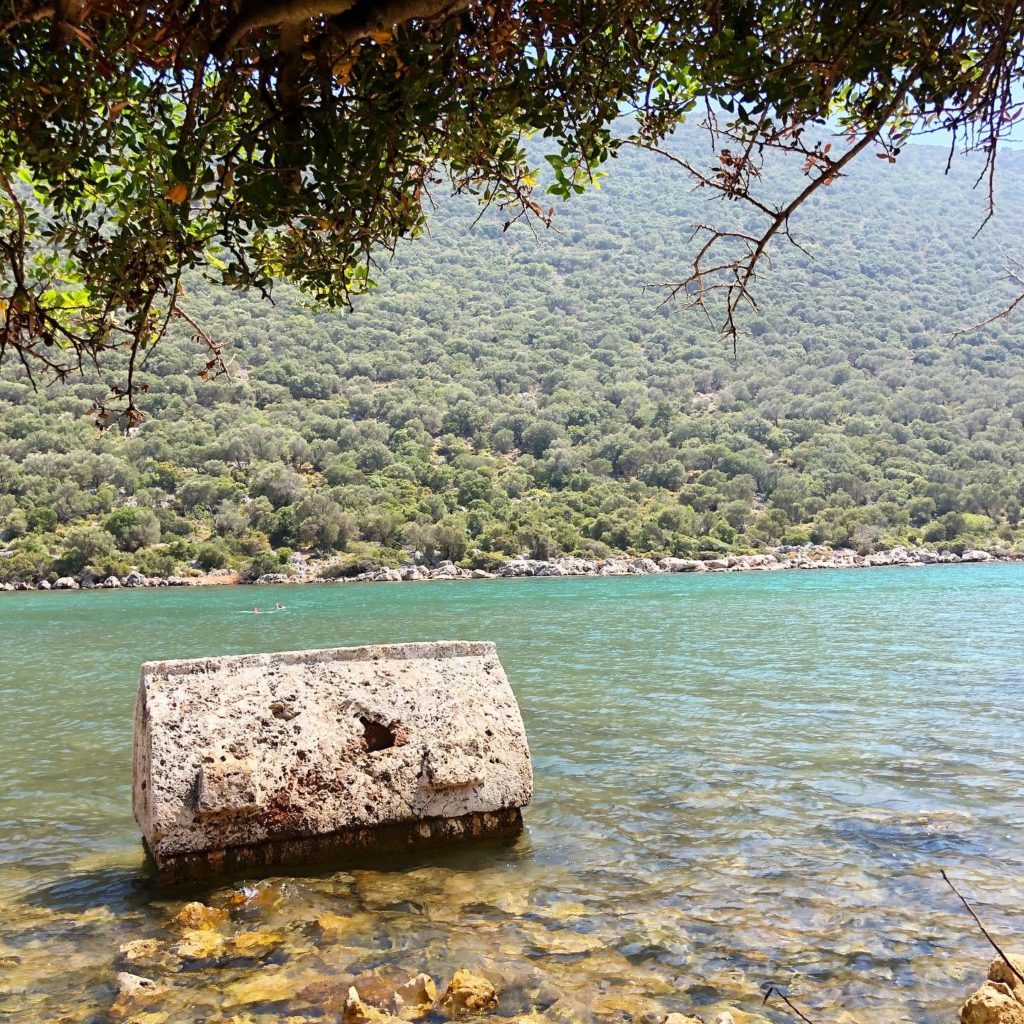 What to expect from Dragoman's sea kayak trip
While on the tour with Dragoman, you also get to visit the other well-known and beautiful sites in the sea along the way, such as the sunken city of Kekova, Tersane (shipyard bay) and Aquarium bay. First of all, when you paddle past Aquarium bay all the buzz and noise of the tourist boats come to an end and you find yourself paddling in peace in the crystal-clear waters of another bay surrounded by green mountains. You will surely feel a sense of calmness and reconnection with nature listening to the sounds of locusts and seeing fast-flying handsome blue kingfishers or playful flying fish! You will paddle several kilometers away from the tourist boats all the way to the end of Polemos bay where you will have a delicious lunch at a tiny "local" restaurant called Yörük Ramazan's that is definitely off the beaten path but well worth the visit!
The best fries in Turkey
Don't be mistaken when I call it a restaurant; it is not a fancy place. As his nickname suggests, "Yörük" Ramazan used to be a nomad but he now lives at the tip of the bay serving food to those lucky adventurers who make it that far. His specialty is his chips, or french fries, which are unmatched in
taste! Your well-deserved (thanks to your paddling!) meal is usually freshly caught grilled fish, accompanied by a local tomato and onion salad and the best fries you will find in Turkey. And even an ice-cold Turkish beer or soft drink if you fancy one! It is just a delight to enjoy his simple but delicious food.
Like walking on Mars
After lunch, you will hike a 2-kilometer section of the Lycian Way until you finally reach another bay where picturesque Aperlai overlooking the water awaits you. The walk takes you through an open field where the earth is red and dry and scattered with rocks as if placed by extraterrestrial creatures. You might feel like you are walking on Mars. I know, none of us has walked on Mars yet but it's probably how you would imagine it! You get to rest in the shade of carob trees and your guide will have interesting anecdotes about the trees or the Lycians to share with you along the way.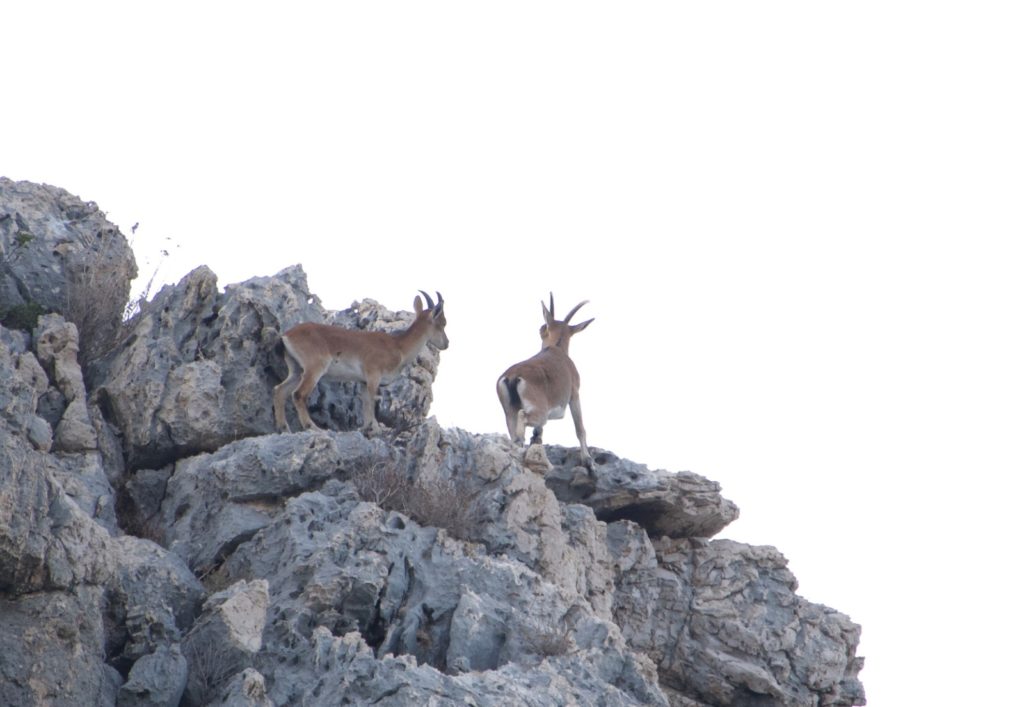 Walking or snorkeling the ancient ruins
As soon as you walk into Aperlai, your eyes take in the impressive fortified walls of the city. There are about eighty Lycian tombs along the path to the city walls and one of which is quite unique with its two room-joined sarcophagus, maybe an eternal bed or a home for the Lycian lovers, who knows. Also don't forget to look for the different reliefs on the tombs, for example, try to find the with the bull on the lid or the one with the turtle shape. Your imagination will be your best friend when and if the shapes look too obscure. There are a couple of Roman baths and churches. Along the edge of the city, in the sea, you can see tombs that have sunk into the water due to earthquakes that took place almost 2000 years ago, as well as rooms that you can explore by snorkeling. You can swim over the sunken murex workshops and maybe catch a glimpse of the murex shells unified with the rocks under the water. Unlike the sunken city of Kekova where swimming is forbidden, you are allowed to swim and snorkel in Aperlai.
It is waiting to be explored by you! It is such a freeing feeling listening to the constant winds of Aperlai and feeling the pleasant disconnect from city life.
Sailing back by kayak!
You will spend about an hour or so in Aperlai and then hike back to Yörük Ramazan's. If you are lucky enough to have the winds of Aperlai on this side of the land, you will be able to sail back to Üçağız! Yes, we can put sails on the kayaks! Our kayaks did not originally have sails, but we managed to find a simple and effective way of putting V-shaped sails on the kayaks for casual and laid-back sea kayak sailing at the end of a full exploratory day.
Obviously, if there is not enough wind–"enough" being the key word–then there will be no sailing. You will paddle back to your starting point at Üçağız and work on those arm and core muscles a bit longer!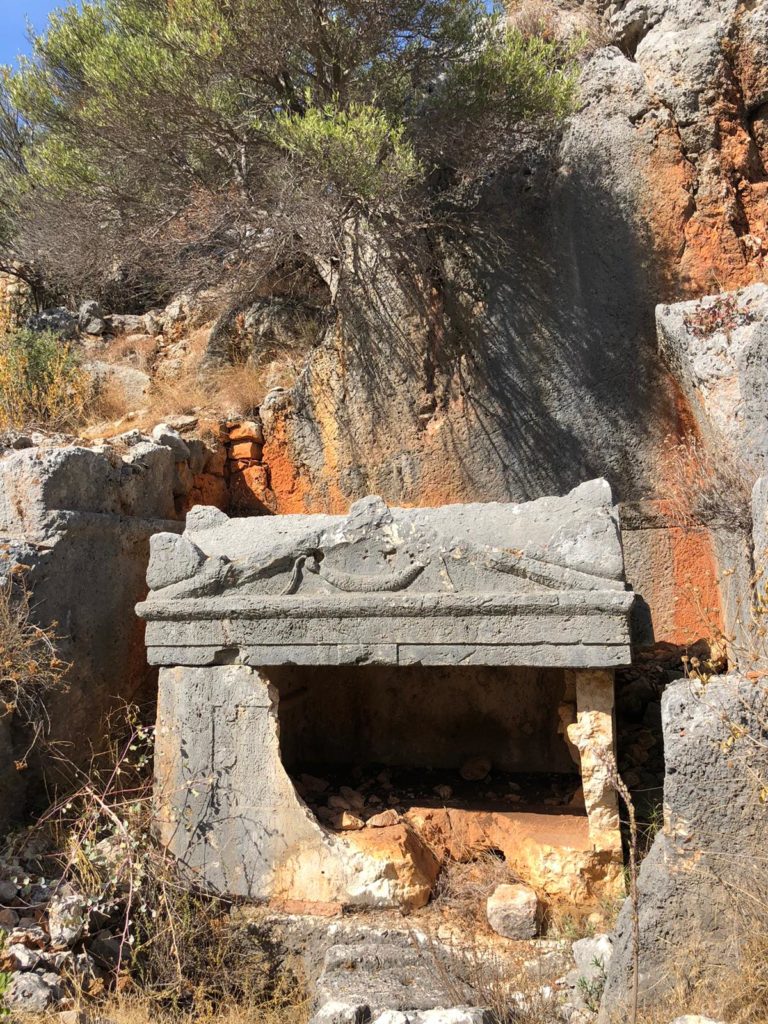 To summarize, here are the key points of why you should be interested in sea kayaking to Aperlai:
First of all, since sea kayaking necessitates an early departure, we get to escape from the boat and tourist traffic of the middle of the day. The bays will be mostly empty and noise-free.
You get to see not just one but two sunken cities!
Since you are in a sea kayak, you get to be the closest to (and paddle over) the sunken city ruins.
You have more time to explore the unspoiled spots.
We paddle and therefore we exist! Seriously though, paddling is a much healthier way to spend a day of your holiday and it enables you to stay fit and sleep like a baby that night too!
Let's not forget, you get to eat the best fries!
You can taste a carob picked right from the tree! (Have you ever tasted a carob pod?)
You will feel like you are on the surface of Mars!
You may get to sail on a sea kayak. I bet you didn't even know that was possible!
Last but certainly not least, the whole Kekova region is a marine protection area to protect the loggerhead sea turtles and the endangered Mediterranean monk seals, so you have the chance to encounter some amazing animals!
To visualize all of this, visit our Instagram page here.
Sign up for or inquire about your Dragoman Aperlai sea kayak (Kekova West) tour here!