Central Lycia Coast Sea Kayaking Tour
22 – 27 June 2019
5 nights – 6 days paddling trip
2 hotel/pension nights (B&B), 3 camp overnights
Price: 800 €
The dates are determined in accordance with traditional Fisherman Storm Calendar.

A unique sea kayak adventure along Turkey's Mediterranean Coast 6 days paddling & camping tour along beautiful, spectacular and unspoiled coastline.
Escape from the crowds to crystal clear waters of Lycian coast for paddling, walking, swimming and snorkeling. Like the ancient Lycians you will be able to reach places accessible only by sea. An English speaking guide will accompany you to further illuminate the history of the sights you will see.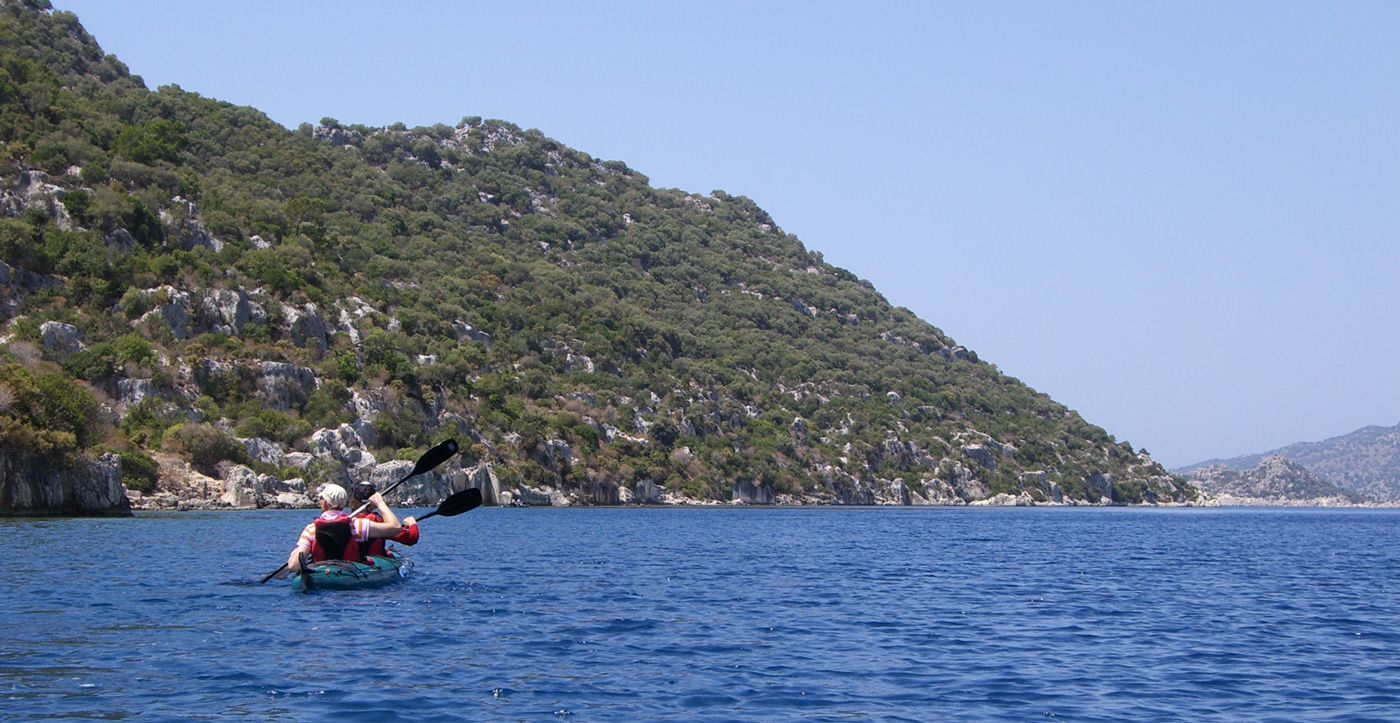 CENTRAL LYCIA REGION
Visiting natural harbors and fascinating islands along Central Lycian Coast; explore the impressive rock tombs of ancient cities, spectacular cliffs, headlands, and the tranquil forested beauty and beaches of the many islands, learn about ancient Lycian history, coastal ecology, natural history and the coastal culture along Turkey's Turquoise Coast. Days spent paddling on kayaks and campgrounds in secluded coves, the whisper of ancient voices in the maquis or pine trees above, just another hectic day on the Lycian Coast.
Previous kayaking experience is an advantage but is not essential. However paddlers should be in a good physical and mental fitness for the itinerary described below. A flexible state of mind and a sense of humor are also important when experiencing " Lycian time ".
Remember to leave your clocks, deadlines and schedules behind so you can enjoy a state of mind where the local concept of time is measured by the seasons.
Come prepared for spectacular Lycian sunrises and sunsets that will take your breath away. Light along Lycian Coast, especially in spring and autumn days, has the clarity and pureness that photographers crave. Add to that an incredible variety of photographic subject matter-people, landscapes, architecture and wildlife. Nested between Mediterranean Sea and Teke Peninsula Range, Lycian coast's deep blue waters shimmer with life, providing surreal contrast to the surrounding landscape.
Experience mythical Lycian Coast like no one else has… via sea kayak!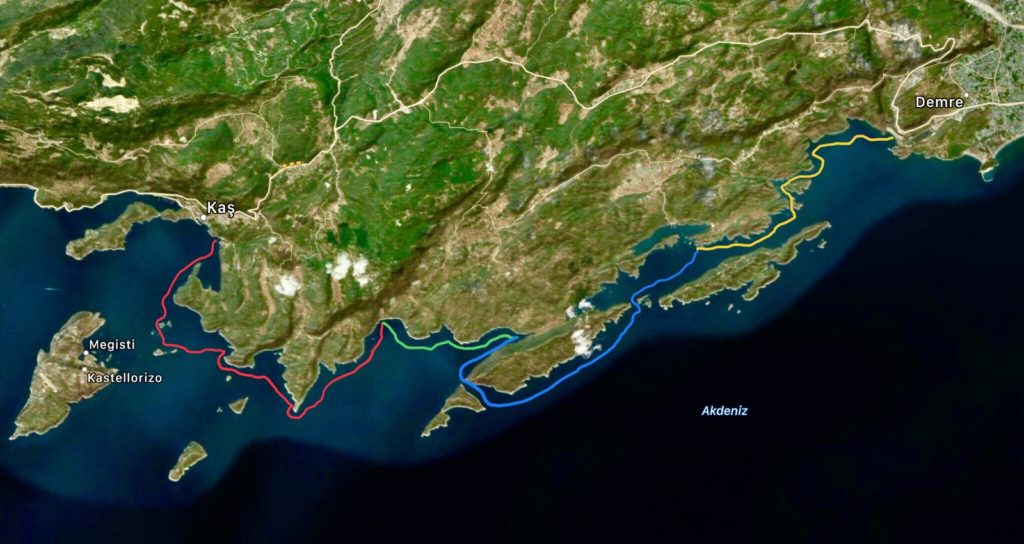 Tour Details
Tour Duration: 5 Nights, 6 Days
Destination: Kas(AntiPhellos)- Demre(Myra)
TURKEY: Antalya- Mediterranean Coast; Ancient Lycian Coast
Speciality Categories: Sea Kayaking (paddling) and Camping & Walking
Airfare Included?: NO
Tour Customizable?: YES for min 5 peoples
Number of Participants:
Minimum group: 4 paddlers + 1 guide
Maximum: 12 +2 staff* paddlers
*(Group leader and an assistant).
Accommodation: Overnights in tented camps and hotel / pension
Meals: Lunch box / restaurant / camp cooking / hotel
Vegetarian rations are possible.
Transfer & transport: by minibus and/or 4 x 4 vehicle
A 4 x 4 vehicle and/or a support boat is provided for logistics and security matters, if necessary.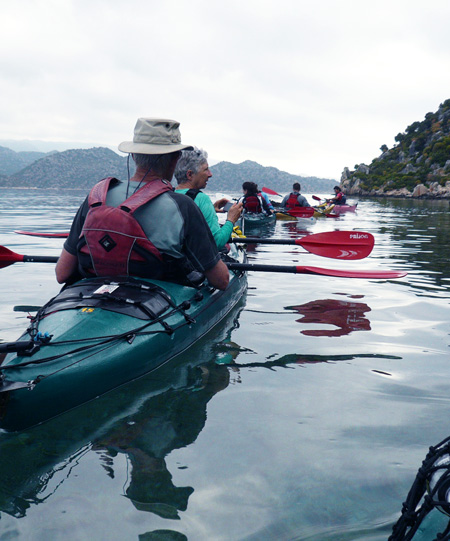 TOUR PROGRAM – THE COAST OF LIGHT
Day 1: Antalya-Kas: Arrive in Turkey.
Meet in the Antalya Airport; transfer to hotel in AntiPhellos (Kas) passing through Turkmen villages via mountain road.
Kas, a beautiful town of whitewashed houses, covered with the rich purples of bougainvillea. The town of Kas lies on a small bay nestled into the mountains not far from the southern point of Lycia. As is the case in so many parts of the Lycian coast, a small, sleepy fishing village has been transformed into a lively vacation center. Just above the modern port, known to antiquity as AntiPhellos, lays the older colony of Phellos.
In Hellenistic times, the port town of AntiPhellos gradually came to dominate its mother colony of Phellos, until the latter faded into obscurity. In addition to the Lycian tombs, the view of the bay from the theater is well worth seeing. A short walk from the harbor brings us to the ancient theatre hidden amongst olive trees. There is a marvelous view across to Castellorizo, the Greek island closest to Turkey. The sea and the mountains are equally appealing to visitors of this coast.
(D) Welcome dinner
Day 2: Kas Archipelago-Fakdere (Factoria Bay)
Start your kayaking adventures right off by learning/reviewing essential paddling and safety skills on calm waters of Hidayet Bay after a short trip along Kas Peninsula.

This skill-drill day covers sea kayaking and coastal camping techniques, adaptation to equipment & sea kayaks, reviewing basic paddling and rescue techniques, bracing, re-entries, strokes, landing, launching; preparation of camping equipment and loading to kayaks which are to be ready for next day departures to open sea, are also to be evaluated. Practicing these skills in warm temperatures ensures a comfortable and enjoyable learning experience.
Safety is first! Our guides are passionate about outdoor pursuits. We know how to have fun. But we also respect our natural heritage and the potential perils of adventure travel-we are very safety-oriented.

This training session could be replaced by a longer trip on the peninsula for experienced groups, before your first open sea experience in this excursion: making a large arc like track, we first pass through Kas Archipelago islands. We can take our first break either on the islands or at the Shepard's Bay for a late lunch time on board. The last leg of the day will also cover the 3 small island opposed to Ufakdere (Factoria) Bay where we will end the first day's paddling.

Bring your camera equipment and immerse yourself in the visual ecstasy that Lycia provides…Don't forget to bring your splash proof cases along with you.
CAMP-I… Net paddling time: 6 n. miles, 4 hours. Difficulty level: CLASS 2.
(B) Breakfast, (L) Lunch, (D) Dinner
Day 3: Fakdere-Aperlai
Today we paddle along remote coasts to Inonu Cove, where the landscape becomes more bizarre by the hour. Here the coast is brittle and rocky. Twisted claws of stone emerge from the water. Jagged islets seem to rise and fall with the tides – no wonder Greek sailors named them "barbs of Poseidon's trident".
On a lucky day, you may encounter sea turtles (Caretta caretta) or Mediterranean monk seals (Monachus monachus)… The surrounding peculiar ecosystem formed by thin points and narrow bays is absolutely quiet and peaceful. Paddling along maquis covered limestone shore and cliff faces of Lycian coast; lunching at a beautiful cove and walking on Lycian trail you may have a chance to see village life of nomads. Nature and sea lovers can enjoy this pristine region that encompass maquis landscape, small canyons, stream mouths, pocket beaches, tiny islets, olive gardens and rock tombs carved into the hills.
After our breakfast at Factoria bay, we will paddle over the waves of Cape Uluburun, where oldest known shipwreck has been excavated by the Institute of Nautical Archaeology. After this cap we paddle towards Inonu cove; you see the splendid rock tombs carved into the hills, powerful remnants of Lycian civilization. After a visit to the beautiful and narrow "camel's inlet", we continue paddling East, exploring coastal features
Arriving to the ancient city of Aperlai at the end of a long bay, you will see the ancient port, now mostly underwater, as a result of earthquake subsidence over the centuries. Twelve miles from Kas, this ancient walled city has very rich ruins above the waters and below: marble columns, paved floors and the foundations of a church lie just below the surface, wating for you to discover them snorkelling. A hike among the coastal ruins will let you discover a unique sarcofagus, where two lovers seem to be buried together.
The 2,400 year-old settlement of around 1,000 people was at its zenith between the fourth to sixth centuries.The shore is still covered with murex shells from which the famous purple dye was made… You may almost smell the old days of the city partially submerged on the Mediterranean Sea. Explorations have yielded a second underwater church, leading researchers to believe that this small region of Lycia encompassing Aperlai and Kekova may have been a stopover for pilgrims heading for the Holy Land — then Palestine — between the fourth and seventh centuries. Helena, the mother of Roman Emperor Constantine who ruled from A.D. 306 to 337, visited Palestine, and she and Constantine began spreading the word of Christianity and encouraged church construction throughout the Roman Empire.

In addition, the popularity of Saint Nicholas — the bishop in a town called Myra located just 15 miles from Aperlai in the early fourth century – was growing due to reports of his miracles that included saving drowning sailors, filling empty ships with grain and providing gifts to children. The close proximity of Myra likely increased the number of pilgrims visiting Aperlai.

This region was the final landfall for ships bound for the Holy Land, which sailed from the Turkish coast south into the open sea, skirting the southern coast of Cyprus and then bearing east to present-day Israel. Returning ships sailed north past Lebanon, Syria and the southern coast of Turkey – including Aperlai – in order to take advantage of prevailing winds and currents… we camp at this hidden cove where is also one of the campsites on Lycian Trail.
Camp-II… Net paddling time: 8 n. miles, 4 hours. Difficulty level: CLASS 2+.
(B) Breakfast, (L) Lunch, (D) Dinner
Day 4: Aperlai-KEKOVA
Paddling along the coastline, passing through Akar Bogazi (Sicak Peninsula narrows), we reach the other side we explore the sheltered waters of Kekova Sound & Kekova Island(s); explore ancient towns of Teimioussa and Simena, both the most evocative of all Lycian burial grounds.

This trip to Kekova and Ucagiz will be the highlight of your stay in antique Lycia. The 'three mouths' of Ucagiz are the openings South, East and West of Kekova Island.

Kekova is famous for its Sunken City that can only be reached by sea. With its ruins just below sea level, mysterious chambers, steps and walls carved directly into the rocks, Kekova is a long thin island that separates the open sea from the mainland. Weather conditions allowing, we will have a chance to visit a sea cave at Kekova Island's South shore.
Across from the island near the mainland village of Ucagiz lies ancient Teimioussa ("place of the three outlets," referring to its location). Interesting are the necropolis and ancient Simena (Kalekoy), certainly one of the quaintest towns in all Lycia.
Kekova island, "the home of the sun" for some, "the island of the partridges" for others, is also the name of a whole ensemble of picturesque islands, numerous bays and ancient cities. These bays provide natural harbors in all seasons, and kayakers particularly enjoy exploring the unspoiled landscapes. Along the northern shore of Kekova Island, earthquakes have disturbed the land causing some of the ancient houses to sink under the clear water, creating a sunken city where you can watch the floor of the sea passing 60 feet(18 m) below; it seems that your boat is floating on air, not liquid. The water glows as if a million broken mirrors were scattered on its surface, so blindingly reflective you have to avert your eyes.
We then continue to Kalekoy Castle (ancient Simena) which offers a bird's-eye view of the bays, inlets, islands and colorful yachts, sailing peacefully on the glassy water. During a delightful approach to Kale (ancient Simena) you'll notice the unusual shapes of the islets and outcrops that you pass, results of quarrying along the water line to provide stone for the buildings you've been seeing all day. The medieval castle of the Knights of Saint John, sitting high on the hill is surrounded by the remains of the ancient city. Old Lycian ogival sarcophagi, sometimes partially submerged, constantly remind you of the prosperous Lycian civilization.
Simena can only be reached by kayak/boat or along footpaths. The ruins are interspersed among houses standing beneath the pewter-capped walls and turrets of the medieval city. Since ancient times, the coast has continued to gradually sink into the sea, creating surreal scenery of partially submerged sarcophagi and other ruins. Snorkellers may be disappointed, as much of this is an archaeological protection zone, even snorkeling is forbidden.
The little village of Kalekoy that lies below and around the castle is one of the most romantic settings of the entire trip. Level walks then a short, steepish climb up to the castle of the Knights of Saint John is well worth it for the fantastic panoramic views it offers. We camp or alternatively stay overnight in a pension.
CAMP-III… Net paddling time: 10 n.miles, 5 hrs. Difficulty level: CLASS 2+.
(B) Breakfast, (L) Lunch, (D) Dinner
Day 5: Kekova-ANDRIAKE
Early morning paddling eastward take us to Kisneli island and Asirli Island with its big sea cave used at one time by pirates, then to quiet and beautiful Gokkaya harbor. We then return inland for a long tea break while discovering the coastal ruins of Istlada and the coastal features of Gokkaya Bay where a short walks to ancient ruins nearby the landing beach is possible. It was as though you enter an ancient water maze, with a thousands coves hidden from the rest of the world.

After the break, heading East we paddle to Demre-Cayagzi river mouth. If time permits, we will paddle up a spring flow in search of birds and natural springs.
We land at Kokar bay, alongside of which are the ruins of Andriake. Situated at the mouth of the Andrakos River, Andriake was the port for Myra, home of St. Nicola's church known to the world as Father Christmas. In A.D 61, the ship that brought the Apostle Paul to Rome for his last visit anchored here to wait for better winds. The strong current of the river prevented the silting up of the port until the Byzantine era.
The afternoon is spent relaxing and visiting Myra, St. Nicholas Church and Demre
Located between Finike and Kas, Myra was one of the most important cities among the other six Lycian cities. It was settled in the 5th century B.C. Although it was originally a coastal town, it has retreated from the sea because of the alluvium from the Demre stream (once Andrakos River). It was abandoned in the 9th century A.D. after the Arab invasion. The rock tombs, the theatre and St. Nicholas Church have survived to make it a place worth visiting. St. Nicholas, born in 245 A.D. in Patara near Fethiye (known variously as St.Nicholas, Father Christmas, Santa Claus, Heilige Nikolaus and Pere Noel) died in 363 A.D., having spent his life in Anatolia. Son of a wealthy family and of good education, he devoted himself to mankind. Because of the assistance he rendered to those around him, St. Nicholas was known as the protector of children and sailors, and to this day the legend of Father Christmas has continued to live as vividly as ever. As the Bishop of Demre, by his religious and social work, he solved the problems of the people in a humane way. After he died he was buried in Demre and a church was built there for his memory.
Italian pirates stole some of his bones and took them to Bari. In their haste they left a few behind and these are today on display in the Antalya Museum. In a number of countries the death of St. Nicholas is commemorated by special ceremonies and by giving presents to children, and in fact it takes on the significance of a new year.
Net paddling time: 7 n.miles, 4 hours. Difficulty level: CLASS 2+(B) Breakfast, (L) Lunch
Day 6: KAŞ: Free day in Kas and its surroundings.
aPost-trip extensions and daily programs are possible: diving, boat trips, cultural tours and other hiking alternatives may be suggested by our office..
(B) Breakfast, (D) Farewell Dinner
WANT TO JOIN